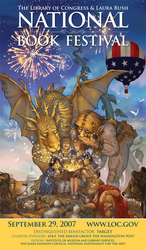 This will be the seventh year of this extraordinary celebration of the joy of reading and the creativity of America's writers and illustrators
Washington, DC (PRWEB) July 25, 2007
The 2007 National Book Festival, organized and sponsored by the Library of Congress and hosted by Mrs. Laura Bush, will be held from 10 a.m. to 5 p.m. on Saturday, Sept. 29, on the National Mall in Washington, D.C., between 7th and 14th streets (rain or shine). The festival is free and open to the public.
"This will be the seventh year of this extraordinary celebration of the joy of reading and the creativity of America's writers and illustrators," said Librarian of Congress James H. Billington. "The National Book Festival brings authors and readers together to share the stories that touch their minds and hearts. Tens of thousands of book lovers see firsthand how reading changes lives and how our country, its citizens and its libraries promote reading in imaginative and inspiring ways."
"The National Book Festival welcomes all Americans to the National Mall to celebrate reading and meet with some of America's most-loved authors from across the country," said Mrs. Bush. "Readers of all ages can discover the joys of new books and fall in love again with old favorites."
The 2007 National Book Festival is made possible with generous support from Distinguished Benefactor Target; Charter Sponsors AT&T, The Amend Group and The Washington Post; Patrons AARP, the Institute of Museum and Library Services, the James Madison Council and the National Endowment for the Arts; and Contributors Barnes & Noble, the Library of Congress Federal Credit Union, Marshall and Dee Ann Payne, NBA/WNBA, PBS, Penguin Group (USA) and Scholastic Inc.
Special note: A media repository with background materials, high-resolution images, video and audio sound bites, b-roll and other audiovisual resources can be accessed via the Press Registration link at http://www.loc.gov/bookfest. Media may also submit author interview requests via this link.
###