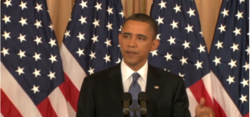 "Americans have serious reservations about the use of U.S. military force in Libya"
- Pollster Bernard Whitman
New York, NY (PRWEB) May 20, 2011
79% believe Congress should vote TODAY on the use of military force in Libya, in accordance with the War Powers Act

60% want their Congressional representatives to vote AGAINST continuing American military involvement in Libya
74% are concerned that Al Qaeda or Islamist elements are part of the anti-government forces
73% say the US should not promote democracy in other countries through the use of military force
60% doubt that military action in Libya will result in establishment of a stable, democratic government
64% believe that military involvement in Libya will become a long term commitment
78% are opposed to the use of ground troops
This poll comes just days before the G-8 meeting in France, where Obama is likely to hear requests for help in escalating the military campaign against Libyan leader Moammar Gaddafi. The rebellion has largely stalled on the ground, and some European diplomats say more American help is needed.
Other findings from the poll include:
Of the 1 in 3 Americans (31%) who saw or heard something about President Obama's speech, 49% had a negative reaction
54% do not think the U.S. and its allies have a clear goal in taking military action in Libya
60% oppose the U.S. and its allies sending arms and military supplies to anti-government groups in Libya
67% say the country is off on the wrong track
This telephone survey of 800 adult Americans was taken on May 19, 2011, by Whitman Insight Strategies, an independent polling firm based in New York City http://www.whitmanstrategies.com. The margin of error for the survey is +/- 3.93%.
###