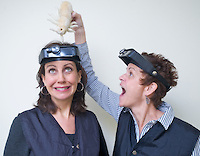 "Rarely do you see a business that provides this type of service to families in need. Since head lice occurs anywhere, no market is too big or small," comments George Palmer, director of franchise recruitment.
Annapolis, MD (PRWEB) February 28, 2013
M.J. Eckert, RN and Nancy Fields, the co-founders of Lice Happens, are not only business partners, but saviors to thousands of families. For the last 4 years, Lice Happens has deloused families from Connecticut all the way to North Carolina. Even though Nancy and M.J. would love to visit every home in the country, it simply isn't possible.
"We frequently get inquiries from families seeking assistance with head lice removal who find us through our website http://www.licehappens.com but who reside outside of our service areas. It tugs at our heart strings when we're not able to help families in need of our service," comments Fields. "Instead of managing field employees across the country, we want to give people an opportunity to own and manage their own business like we do," notes Eckert. "The need is widespread and we're developing a nationwide franchise program that reflects the professionalism, commitment to quality, and passion that have lead to Lice Happens' current success," added Fields.
Why Lice Happens?
Lice Happens is a professional and certified mobile head lice removal service with a proven and successful business model. We are offering the first dozen franchisees additional exclusive territory free of charge to attract motivated individuals.
About Lice Happens: Lice Happens, a Mid-Atlantic-based head lice removal service, offers in-home pesticide free head lice treatment. The company was founded by two Annapolis residents, M.J. Eckert, R.N., a 15-year school and camp nurse veteran and Nancy Fields, a 10-year quality assurance entrepreneur. For more information about Lice Happens franchises visit http://www.licehappensfranchisesystems.com or contact Lice Happens or call 443.510.4480.