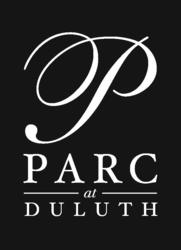 With over a decade of senior living property development and management experience we are keenly aware of the needs and desires of our residents and their families.
Duluth, Georgia (PRWEB) December 12, 2012
Parc at Duluth, the northeast metro area's premier senior living community, will host a Grand Opening for their new fully licensed Personal Care community, December 12th from 5 to 7pm at 3315 Peachtree Industrial Boulevard Duluth, GA 30096. Serving the area's finest neighborhoods, Parc at Duluth offers residents and their families extraordinary service, care and amenities. Reflecting this tradition of excellence, Parc at Duluth has been voted Best Retirement Community by Gwinnett Magazine for the past three years. "With over a decade of senior living property development and management experience we are keenly aware of the needs and desires of our residents and their families," says Andy Slavin, Vice-President of Parc Communities.
Duluth Mayor, Nancy Harris, will join Parc at Duluth for a ribbon cutting event in celebration of their new assisted Personal Care community. The event provides prospective residents and family members as well as healthcare professionals, an opportunity to view and experience this exciting new addition to Parc at Duluth. Guests will be able to tour the community's new Personal Care addition, and enjoy live music, refreshments, and hors d'oeuvres.
Parc at Duluth's new licensed Personal Care community offers all-inclusive licensed care and assistance in an active and engaging environment. Featuring nurses and caregivers on staff 24/7, the new addition complements Parc at Duluth's hospitality-driven independent senior lifestyle with licensed Personal Care offering for those residents in need of additional assistance with activities of daily living. Personal care enables residents to enjoy the benefits of the Parc lifestyle, knowing that all of their needs are met.
Judy Doering, Marketing Director for Parc at Duluth, understands that, "Senior living is not one type fits all. With adaptable living options such as full service Independent Living, ParcCare and fully licensed Assisted Care, Parc at Duluth is able to accommodate your changing needs. These specialized services provide a variety of options for seniors if and when they need them all under one roof."
Personal Care services at Parc at Duluth include assistance with medications, personalized assistance with bathing and dressing, health and wellness programs, transportation to local medical appointments and scheduled outings, daily chef-prepared meals, emergency in-room call response systems, and more for an all-inclusive monthly service fee. Parc at Duluth's personal care apartment homes offer unique, studio or one-bedroom floor plans to fit any lifestyle or need.
About Parc Communities: Parc Communities (Parc) is an Atlanta, GA, based company that focuses on the development and operation of upscale senior living communities. Parc Communities currently owns and operates two Atlanta-area retirement communities in the Duluth/Johns Creek and Marietta/East Cobb areas of metropolitan Atlanta, with plans to develop additional communities throughout the Southern United States.
Dedicated to providing residents with the premier senior lifestyle, Parc Communities has established itself as the leader in service-oriented Atlanta retirement communities for seniors. For more information on Parc Communities, please visit our website at http://www.parccommunities.com.