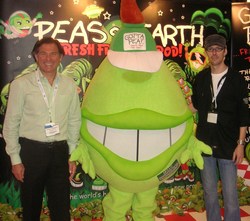 the world's healthiest and greenest property
New York, NY (PRWEB) June 11, 2008
Gotta Pea?™ created buzz at the International Licensing Expo in New York as entertainment and marketing executives from around the world converged on the annual event showcasing children's entertainment properties, said Surge Licensing, worldwide licensor of Gotta Pea?
Mark Freedman, President of Surge Licensing, described Gotta Pea? as "the world's healthiest and greenest property," noting that the newly introduced irreverent Pea characters have "attitude fresh from the can" and said "Gotta Pea? is ready to take root in pop culture."
Freedman said, "Gotta Pea is a fun, quirky, off-the-beat creation that's well positioned to gain traction in the highly competitive international licensing industry. It has great characters and a great story, two elements important to any hit entertainment property."
Doug Koozer, Gotta Pea Creator and Artist, was a special featured guest at the Gotta Pea Booth and was on hand to meet visitors to the Gotta Pea Booth, # 4658 at Licensing Expo, held June 10-12.
Koozer, said, "I lived and pea-ed all my life and now it's time to stir the pot and bring Gotta Pea front and center. Peas are simply my life!"
Two hilarious 6-foot-tall Gotta Pea costumed characters, Sprout and Mendel, delighted show guests and attracted the attention of industry executives visiting to learn more about "Peas on Earth."
Surge introduced Gotta Pea? as the "world's healthiest and greenest property." Contact Surge Licensing, based in Hicksville, New York, at 516-939-2225 to learn more about "Gotta Pea?"
Freedman said, "Throughout history, the greatest Heroes have mostly been a combination of animal and mineral. It was a matter of time before vegetables would be added to the proverbial soup."
Online at GottaPea.com, "The lovable Peas will delight kids of all ages and use mildly irreverent bathroom humor at times, but the fun is in the puns... after all doesn't everyone Gotta Pea?"
As the story goes, slightly frozen Peas from outer space looking for a nice place to defrost picked up a distant signal from a strange blue planet calling for "Peace on Earth," and headed this way thinking any planet with this obvious plea-for-peas was worth visiting.
Gotta Pea characters include grinning Chip-Pea, Pea-Brain, double headed Split-Pea, Hip-Pea, Grump-Pea, Slop-Pea, Zip-Pea, Chick-Pea, Sweet-Pea, and our rapper, Oh-Pea-Pea, round out a farm stand of fun. In the shadows is an evil empire of misguided legumes, "CreePeas," who wreak havoc just because they can.
"Technically not a vegetable, but who really cares, the pea is often overlooked in world political, ecological and monetary matters, but I think they have a bright future in licensing and entertainment," said Freedman.
Surge Licensing, based in Hicksville, NY, is the worldwide licensor of "Gotta Pea?" the world's healthiest and greenest property.
Everyone's Gotta Pea... don't you?
###