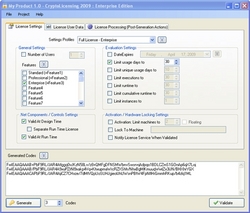 CryptoLicensing uses a technology known as asymmetric public-key encryption to generate and validate licenses. This makes it impossible for a 3rd party such as a hacker or a cracker to develop so-called keygen programs
Pune, India (PRWEB) June 4, 2009
CryptoLicensing, a licensing management and copy protection software from LogicNP Software, may soon become a formidable weapon in the hands of companies in their fight against piracy. Many surveys have found that billions of dollars are lost every year because of piracy. CryptoLicensing, with its powerful copy protection, activation and hardware-locking and machine-locking technologies, aims to help software companies protect their intellectual property and increase sales.
CryptoLicensing uses military-strength 3072-bit cryptographic technology to generate and validate licenses. Given current computing speeds, it would take years for a hacker to crack such licenses. "CryptoLicensing uses a technology known as asymmetric public-key encryption to generate and validate licenses. This makes it impossible for a 3rd party such as a hacker or a cracker to develop so-called keygen programs", says G Himangi from LogicNP Software.
CryptoLicensing offers licensing schemes for just about any scenario including creating an evaluation or trial license, full version license, a license requiring online or manual activation, a hardware-locked license, a subscription license or an On-Demand license. A major feature of CryptoLicensing is support for licensing applications developed for mobile devices such as Pocket PC, Windows Mobile, Windows CE and Smartphones. Licensing of components and controls as well as ASP.Net websites is also supported.
A useful feature of CryptoLicensing is its Generator API which allows generation of licenses via code from external software. The Generator API allows any level of customization and integration with the company's license generation, sales/e-commerce and order-fulfillment process. "The CryptoLicensing Generator API was absolutely indispensable to our needs and allowed us to fully automate the entire procedure right from when a customer buys a product from our website to the email containing his auto-generated license that gets sent to the customer after the purchase.", says Michael Tribiski from Aliver EasyDocs, a company which makes a popular document management software.
CryptoLicensing is available in three editions. CryptoLicensing For .Net is targeting towards companies doing development in.Net and .Net Compact Framework using C#, VB.Net or any other .Net language. Also available is CryptoLicensing For MFC which protects software developing using MFC/C++. Lastly, CryptoLicensing For ActiveX can be used for the copy-protection of software developed in VB6, VBA (Access, Word, Excel), RealBasic and other developing environments supporting ActiveX technology.
CryptoLicensing is available directly from LogicNP Software. Trial versions and detailed product information is available from the website. Development licenses can be purchased starting from US $149. Multi-developer licenses, site licenses and Support and Upgrade Subscriptions are also available.
For more information about CryptoLicensing or other LogicNP Software products, visit LogicNP Software
About LogicNP Software
LogicNP Software is a privately owned software development company which specializes in developing reusable controls, components and libraries for .Net, WPF, ActiveX and MFC/ATL developers. Our mission is to provide innovative, robust and easy-to-use components and controls that help developers build the best applications that today's competitive marketplace demands. Our products are used by large corporations, multi-national companies, consultants, ISVs and single developers all over the world.
Evaluation copy available upon request.
E-mail for more information: info(at)ssware.com
Contact: G Himangi
Company: LogicNP Software
Email: himangi(at)ssware.com
Phone: +91 9011 060 401
###