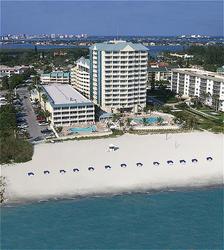 It is a privilege to be rated number one in our market
Sarasota, Fla. (PRWEB) December 19, 2007
Lido Beach Resort has risen to the #1 rated hotel/resort in Sarasota, FL out of 42 hotels on TripAdvisor.com.
"It is a privilege to be rated number one in our market," says Shannon Burdge, General Manager of Lido Beach Resort. "To consistently remain #1 against so many well known 4 and 5 star branded resorts in our market is a testament to the hard work and dedication of our staff."
Lido Beach Resort is a 3-star hotel that has out-ranked many 4 and 5 star hotels in the Sarasota market for this top position on TripAdvisor. TripAdvisor.com is the Internet's largest online travel community, with more than 10 million reviews and opinions from real travelers on hotels, attractions, restaurants and destinations around the world.
User generated content is becoming increasingly more important to hoteliers and travelers alike. According to a recent study by Compete, Inc, "82% of travelers prefer consumer reviews over a hotel's description, 84% of guests claim that they shopped on third party sites but booked on brand sites." This shift in traveler behavior toward focusing on user generated content in order to make their purchasing decisions is one component of what experts call Travel 2.0.
Shannon Burdge is well aware of the importance of Travel 2.0. He states, "Consumer generated content whether speaking about blog posts, user reviews, even videos, is becoming increasingly important to our industry. Websites like TripAdvisor allow us to directly interface with travelers who have stayed with us or those who are considering our resort for future travel. We decided long ago that we needed to provide today's travelers more information than just an acceptable rate. The comments made by our prior guests go a long way in demonstrating our commitment to service and the quality of our product."
Mr. Burdge has taken the functionality of TripAdvisor.com one step further as he personally responds to every Lido Beach Resort post, positive or negative. He uses this as a communication to impress upon the traveler that they are not just another "booked room" when they come to Lido Beach Resort. Rather, he would like travelers to feel appreciated and enjoy their stay. Excellent experiences while at Lido Beach Resort have led to 122 user reviews giving them 4.5 out of 5 stars on TripAdvisor.
Videos are another part of Travel 2.0 user generated content that Lido Beach Resort has embraced. Mr. Burdge has recently instituted a program which is meant to incentivize customers to create videos of their stay at the Resort. A great example of a user generated video can be found by searching "Florida Family Vacation" at YouTube.com.
The Lido Beach Resort is an intimate getaway nestled beachside on Sarasota's exclusive Lido Key on Florida's west coast. World renowned shopping, dining and nightlife can be found on St. Armand's Circle, only a short stroll from our beachfront resort. Whether you are here for business or pleasure, the Lido Beach Resort Sarasota will offer you luxury in the form of twelve room layout options, all outfitted with simple elegant design.
For further information:
Shannon Burdge
General Manager
Lido Beach Resort
941-388-2161
http://www.lidobeachresort.com
###