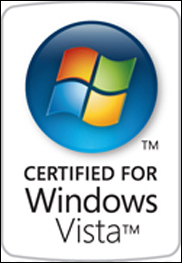 Solutions like Random Password Manager Enterprise Edition make it easier for some of our customers to take advantage of User Account Control in Windows Vista to have a managed, more secure desktop - especially those that support road warriors
Los Angeles, CA (PRWEB) January 22, 2007
Lieberman Software Corporation today announced that its Random Password Manager Enterprise Edition product has been certified for Windows Vista. The product allows organizations to more fully leverage the Windows Vista User Account Control (UAC) feature by providing an automated method for issuing temporary administrator credentials to users.
"Solutions like Random Password Manager Enterprise Edition make it easier for some of our customers to take advantage of User Account Control in Windows Vista to have a managed, more secure desktop - especially those that support road warriors," said Russ Humphries, Windows Vista Product Manager at Microsoft.
Many organizations strive to minimize the number of users who have administrator permissions, but in the past this was difficult to accomplish. Windows Vista UAC makes it easier to deploy Windows with only standard user privileges, but there are still times when the users might need to perform an administrative operation, such as installing an application when they are on the road. Organizations are forced to decide between giving their users a way to modify their PCs on their own, as the need arises, or completely locking down the desktop.
Random Password Manager Enterprise Edition solves this dilemma by enabling a secure gateway to an account database that allows authorized users to retrieve the local administrator password for their systems from any web browser. The product randomizes the issued password after a fixed period of time, so that the credentials are only useful for a limited period. The IT staff maintains fully audited control over which administrator accounts a user can access.
"Many of our customers contemplating a migration to Windows Vista also face significant security management issues," said Philip Lieberman, president of Lieberman Software. "Random Password Manager Enterprise Edition allows them to deploy the Windows Vista UAC feature and elevate user privilege levels for a restricted time. The product's Windows Vista certification assures our customers of continuing reliability as they move to the new platform."
The certified for Windows Vista program was developed by Microsoft as the standard for identifying applications that deliver the highest levels of quality, manageability, and security in the Windows enterprise. Testing is conducted by independent, third party companies.
Random Password Manager Enterprise Edition is the fifth Lieberman Software product to be Certified for Windows Vista. The company's other Windows Vista Certified products are User Manager Pro™, Service Account Manager™, Account Reset Console™, and COM+ Manager™.
About Lieberman Software Corporation
Lieberman Software Corporation provides advanced systems management solutions that reduce the cost and complexity of administering the Windows enterprise. By automating time intensive security, server, and workstation maintenance tasks, Lieberman Software increases control over the Windows infrastructure, delivering improved productivity, performance, and audit-ready security. With products that simultaneously administer thousands of systems from a single console, Lieberman Software ensures that even the largest corporate, educational, and government enterprises remain managed, secure, and compliant. Lieberman Software is a Microsoft Gold Certified Partner headquartered in Los Angeles, CA. For more information, please visit http://www.liebsoft.com.
Product and company names herein may be trademarks of their registered owners.
For more information, please contact:
Kevin Franks
Marketing Communications Manager
Lieberman Software Corporation
1-800-829-6263
310.300.3562
http://www.liebsoft.com
###