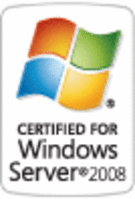 Microsoft is pleased to be working with Lieberman Software to expand the offerings for customers of Windows Server 2008
Los Angeles, CA (PRWEB) February 27, 2008
In support of the new Windows Server 2008 operating system, Lieberman Software is a sponsor and exhibitor at today's Microsoft 2008 "Heroes Happen Here" launch event in Los Angeles, CA. Lieberman Software is promoting its Windows Server 2008-certified applications at the event.
"The Microsoft 2008 launch event is an opportunity for us to interact with our core customer base -- the IT managers and administrators who rely on Microsoft's enterprise technologies," said Philip Lieberman, president of Lieberman Software. "Windows Server 2008 provides increased security for networks, servers, data, and users, which are some of the same concerns that our products address. By providing Microsoft-certified products which support this new platform, we can continue to manage and secure our customers' enterprise environments in the future."
Lieberman Software is exhibiting its full line of security management solutions at the event, including its three Windows Server 2008-certified applications - User Manager Pro™, Service Account Manager™, and Random Password Manager™. The company was the first software vendor to achieve three Windows Server 2008 certifications. One of the company's other products, Roulette™, is currently in the process of earning certification.
Lieberman Software reduces internal and external security threats by providing local security management for large cross-platform enterprises. The company's products collectively control and report on all groups, users, passwords, registries, policies, objects, rights, and services dispersed throughout the servers, workstations, mainframes, databases, and devices in the network.
These products can manage thousands of systems simultaneously from one central console, without deploying agents, and are utilized for local password and account management, maintaining regulatory compliance, security threat assessment, and threat response/intrusion remediation. Organizations in every vertical market segment use these solutions to maintain oversight control of the IT infrastructure, reduce external and internal security breaches, and rapidly respond to systems issues as they arise. Lieberman Software is a Microsoft Gold Certified Partner in the ISV Competency.
"Microsoft is pleased to be working with Lieberman Software to expand the offerings for customers of Windows Server 2008," said Ward Ralston, Group Technical Product Manager for Windows Server Marketing at Microsoft Corp. "Our industry partners play an essential role in ensuring that our customers have the best technology foundation available, and Lieberman Software helps deliver valuable new functionality to customers."
About Lieberman Software Corporation:
Lieberman Software Corporation provides security and systems management solutions that reduce the cost and complexity of administering the cross-platform enterprise. By automating time intensive systems maintenance tasks, Lieberman Software increases control over the IT infrastructure, subsequently reducing security vulnerabilities, improving productivity, minimizing system failures, and ensuring compliance. With products that simultaneously administer thousands of systems from a single console, Lieberman Software ensures that even the largest corporate, educational, and government enterprises remain managed, secure, and compliant. The company is a Microsoft Gold Certified Partner headquartered in Los Angeles, CA, with an additional office in Austin, TX. For more information, please visit http://www.liebsoft.com.
Product and company names herein may be trademarks of their registered owners.
###