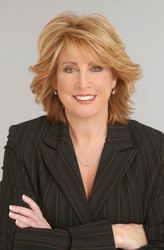 I want to be a part of inspiring people and showing them ways to be successful, whether it's in business or whether it's with their families
Dallas, TX (PRWEB) December 11, 2008
WorldVentures today announces a new marketing partnership with Basketball Hall of Famer Nancy Lieberman, a two-time Olympian, former WNBA player and coach, and ESPN broadcaster. A native of Queens, New York, Lieberman forged a basketball career out of sheer grit and determination, two traits that would allow her to become one of Basketball's most respected figures. Over the past decade, Nancy has worked tirelessly to spread a universal message of potential and prosperity; making her partnership with WorldVentures a particularly harmonious marriage of ideals.
"What convinced me was the fact that I believe in their slogan 'Making a living… Living'," Ms. Lieberman said, "I want to be able to, through the business model that's in place, reach out to people I know, to my fans, and let them know that they can be a part of this."
"I get paid to go around the country and teach people work-life balance," says Nancy. "And (WorldVentures) is the epitome of work-life balance! You get to work hard, but you get to be with friends and family, and you have a quality of life. We only go around once, and we all will ask at some point, 'What did we do with our time?' Did we work hard? Did we play hard? What was our motivation? I want what I do to count. I get people that come to me all the time as you can imagine - wanting me to endorse, or support, whatever it is that they need. But this thing really hit home for me, it made sense."
With that outlook on life, Nancy quickly found that she and the WorldVentures team are kindred spirits, and the idea of a partnership became inevitable. This new partnership represents tremendous potential; WorldVentures and Nancy Lieberman are opening a whole new chapter in business together.
"I want to be a part of inspiring people and showing them ways to be successful, whether it's in business or whether it's with their families," Nancy said. "You know I really believe in this, it's made me enthusiastic to reach out not only to my inner circle of friends and relatives, but to share the message of what we're doing, where we're going and what we're going to do in the future. This is pretty exciting stuff for me."
About WorldVentures
WorldVentures is an internet based marketing company, specializing in leisure travel. Founded in December 2005, the company is an emerging leader in the leisure travel industry. WorldVentures is privately held and based in Plano, TX, with active representatives throughout the United States.
About Nancy Lieberman
For more information on Nancy Lieberman, see: Nancy's Team.
###