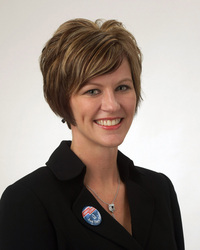 With the increase in the aging population - and in the nature of the work we are called to do in Life Care - an increased focus has been placed on developing ways to improve the living environment of the elderly population, which takes into account health and accessibility issues
Cleveland, TN (Vocus) October 19, 2009
Kimberly Neiman was recently promoted to Life Care Centers of America's vice president of interior design.
Neiman most recently served as one of Life Care's interior designers. She helped design and renovate facilities in the company's Mountain States, Southwest and Northwest Divisions, as well as Century Park facilities. In her new position, she will oversee the interior design of renovations and new construction in buildings throughout the company - from facilities in Rhode Island to those in Hawaii.
"Kimberly Neiman is a wonderfully talented individual who applies creative and technical solutions to achieve a warm and friendly environment within our offices and skilled nursing facilities," said Beecher Hunter, Life Care president. "These solutions are functional, enhance the quality of life and culture of our residents and associates, and are aesthetically attractive.
"With the increase in the aging population - and in the nature of the work we are called to do in Life Care - an increased focus has been placed on developing ways to improve the living environment of the elderly population, which takes into account health and accessibility issues," Hunter explained. "Kimberly understands that well-designed interior spaces can create positivechanges in people's lives. Her leadership of this important department will serve our residents - and our staffs - very well."
Neiman earned her bachelor's degree in interior design from the University of Tennessee at Knoxville. She began working with Life Care in 1997. She has also worked in commercial interior design. She currently resides in Cleveland with family in both Knoxville and Nashville.
"I am looking forward to working with our facilities to create environments for our residents that are user-friendly, functional and (most of all) home-like," Neiman said. "Our department continuously looks for new products and finishes that meet ADA and fire codes and are aesthetically pleasing. Our goal is to make our residents and their families as comfortable as possible, and we are extremely fortunate to have one of the best design studios in the area to carry out this mission."
Founded in 1976, Life Care is a nationwide health care company. With headquarters in Cleveland, Tenn., Life Care operates more than 220 nursing, subacute and Alzheimer's centers in 28 states. For more information about Life Care, visit http://www.lcca.com.
# # #