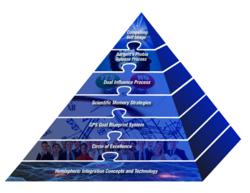 Hemispheric Integration is an essential part of the Life Strategies Coaching Formula
Rancho Santa Margarita, CA (PRWEB) November 23, 2011
If the left brain controls logical thinking and the right brain manages creativity and spatial thinking, it only makes sense to integrate the two hemispheres of the brain for greater brain power, fulfillment and life success. This powerful science is known as hemispheric integration (HI), and is a part of The Spencer Institute's unique online Life Strategies Coach Certification Program.
The self-paced and comprehensive online training program utilizes the science of hemispheric integration – learning how to tap into both sides of the brain and use them together for greater overall success – and gives life coaches the full spectrum of skills required to develop and launch a lucrative life coaching practice.
In the past, life coaches relied on a wide variety of motivational strategies and techniques for organization and inspiration. This leads to good results. Yet, the theory of Hemispheric Integration is that none of that actually matters if each hemisphere of the brain isn't functioning at the highest leveling and collaborating and referencing the other hemisphere for the best possible outcome.
"As we learn more about this growing field of neuro science, we realize that we have a lot of capacity and insight we're not tapping into, something that life coaches must learn about, understand and take with them to get their clients the best possible results," said Dr. John Spencer Ellis, CEO and president of The Spencer Institute and co-creator of the Life Strategies Coach Certification program. "This program offers step-by-step blueprints to developing a powerful and impactful life coaching business."
As part of the Life Strategies Coach Certification program, hemispheric integration can be used to help people overcome a variety of phobias, set and meet life goals, improve communication and conflict resolution skills, stop smoking and overeating, deal with grief and past trauma, improve relationships and much more. In addition to hemispheric integration, the program covers issues including self-image and self-esteem, phobias and healing, influence, scientific memory strategies, goal setting, relationships and more.
About the Spencer Institute
Founded by Dr. John Spencer Ellis, an international leader in wellness coaching, personal development and fitness, The Spencer Institute offers life coaching, holistic education, nutrition coaching, sports psychology and wellness training certification programs delivered in online and distance learning formats that are designed to provide a step-by-step blueprint to success. The programs were developed to help people find the career of their dreams while helping others live better lives. For more information about the Spencer Institute or the Life Strategies Coach Certification Program, please visit [http://spencerinstitute.com/life-strategies-coach-certification/
###