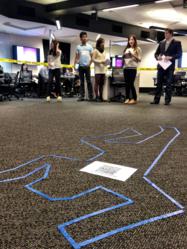 Students have developed viral marketing campaigns through a variety of social media tools including Pinterest, Facebook and YouTube
Melbourne, VIC, Australia (PRWEB) September 17, 2012
A study conducted in 2010 found that Australians are among the most underinsured people in the developed world. According to the report published by the National Centre for Social and Economic Modelling (NATSEM), 95% of Australian families don't have adequate personal insurance; despite the fact 1 in 5 families will experience unexpected death, accident or illness of a parent.
miPlan is hoping to reverse the trend, and believes Social Media can play a major role.
According to miPlan's founder and CEO, Stephen Handley, "Social Media is a brave new frontier, full of opportunity and uncertainty. There are already a number of examples of marketing campaigns backfiring catastrophically, and so most traditional companies are very hesitant to experiment. In our opinion, however, Social Media is an opportunity to engage customers in deeper conversation, which means we can actually learn what's important to them."
Rather than use the services of an established marketing company, miPlan has partnered with RMIT's Graduate Marketing program and is working with students to develop and test a variety of marketing ideas.
Stephen says his reason for approaching RMIT was because "Australia's underinsurance problem suggests that traditional marketing ideas haven't worked and so are unlikely to work within Social Media. We wanted to get creative and innovative, and where better to do so than at the university that has built its reputation on practical creativity."
This unique collaboration runs over the course of a semester and involves the RMIT's students designing and implementing multiple social media campaigns that will be assessed based on their real-world results.
This assignment offers a unique opportunity for students to see the success, or otherwise, of their campaigns and according to Dr. Angela Dobele, who runs the Interactive Marketing program, the students' response has been overwhelmingly positive.
"This assignment is about creativity and strategy. Students had to conduct research into the insurance industry and then develop a unique and positive message to encourage people to purchase a life insurance policy – it's a bit different from convincing them they need new sunglasses - and they have responded very well to the challenge. This semester we've seen koala families, circus performers, guardian angels, emergency police tape and met Bob. Students have developed viral marketing campaigns through a variety of social media tools including Pinterest, Facebook and YouTube."
miPlan and RMIT have both stated they hope to collaborate in future classes.
About miPlan
MiPlan Online is a registered trading name of BHA Financial Solutions Pty. Ltd. MiPlan offer online life insurance quotes, comparisons and support services.
Their current Life insurance products are underwritten by TAL (formerly TOWER) Australia
For further information regarding MiPlan or any of its services, visit http://www.miplan.com.au or call 1300 MIPLAN.