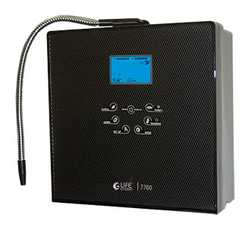 Our Research and Development team have been working for years to create the perfect tasting alkaline mineral water; that perfect combination of anti oxidants at the respective pH level
Carlsbad, CA (Vocus) October 6, 2010
There is a delicate balance between the pH of the water and the amount of naturally occurring antioxidant minerals. Creating this balance with an ionizer is dependent upon many different factors which include (among others) the number of electrodes and power or watts of a water ionizer.
The unveiling a new 7 plate water ionizer from Life Ionizers® offer their customers the most advanced water ionizers in its class. With up to 309 watts of power and 7 flat or MESH electrodes double dipped in titanium, the Life Ionizer 7700 is setting the industry alight!
"Our Research and Development team have been working for years to create the perfect tasting alkaline mineral water; that perfect combination of anti oxidants at the respective pH level" says Rick H Cabados, CEV for Life ionizers
The LIFE 7700, with it's front sliding door for easy filter access is ergonomically designed and supported with a Life Time Warranty on all parts!
Drinking alkaline water is probably the single most important thing you can do for your health and well-being. With the increase in modern day stress and toxicity, alkaline water helps to flush excess toxicity from the body. Life Ionizers, the leaders in the Alkaline Water Industry are supporting the industry wholeheartedly with the largest selection of Alkaline Water Ionizers on the market today.
###