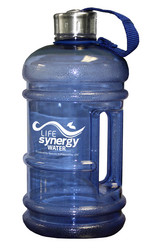 Carlsbad, CA (Vocus) July 15, 2010
It is the single most environmental hazard plaguing the planet today ~ single serve plastic water bottles.
Bottled water is a not only a rip off with consumers spending an estimate $7 billion on bottled water in US each year but 1.5 million barrels of oil is used annually to produce plastic water bottles for America alone - enough to fuel some 100,000 U.S. cars for a year.
Life Ionizers, the leaders in Water Purification Systems have unveiled a reusable plastic bottle which will completely biodegrade. This means that any discarded bottle from Life Ionizers will disintegrate in a landfill or compost environment.
As a recycle #1 bottle it fits into a closed loop recycling stream.
Worldwide 2.7 million tons of plastic are used to bottle water each year! Life Ionizers aim to address this environmental hazard with their world's first completely biodegradable BPA FREE plastic water bottle.
An additive sourced from an environmentally friendly USA based company was added to the PETG during the manufacturing process which changes the polymers in the PETG to make the plastic totally biodegradable in both aerobic and anaerobic environments.
Life Ionizer Bottles are not Oxo biodegradable or PLA plastic (corn based) bottles. Life Ionizer bottles are plastic containers that biodegrade in aerobic (compost) and anaerobic (landfill) environments, breaking down through microbial action into bio gases and inert humus leaving behind no harmful materials. Life Ionizer bottles are recyclable and can be mixed into the recycling stream with other plastic bottles.
EarthTrade Water, Inc. offers a custom label solution for these bottles. Showcase your logo on the world's first biodegradable reusable container. Wholesale inquiries welcome as well as a fund raising and business opportunities.
Custom bottle design also available to suit your needs from 500 ml to 5 Gallons
To contact Life Ionizers:
6352 Corte Del Abeto, Suite H
Carlsbad, CA 92011
Contact: Rick Cabados Tel 1 888 688-8889
About Life Ionizers:
LIFE Ionizers International headquarters is located in beautiful Carlsbad, California with additional offices in Canada, United Kingdom & Australia. The Company has been in the water ionizer industry for 14 years and manufactures and distributes home, commercial and agricultural water ionizer systems. LIFE technologies are cutting edge as a result of their never-ending quest for technological superiority with such exclusive innovations as the LIFE UV Light Technology™ and the Vitamin C Ceramic Filter Technology™ for chlorine & chloramine reduction and most recently their award winning Energy Frequency Technology™ EFT development all three are patent pending). It is the 1st and only Water Ionizer to be listed in the World Wide Physicians' Desk Reference (PDR). The choice is simple…choose LIFE™.
###