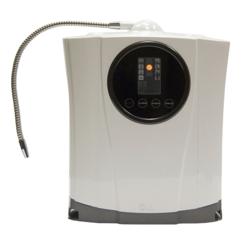 Carlsbad, CA (PRWEB) April 04, 2012
New for 2012, the LIFE Hydrogen Water Machine makes antioxidant ionized water with the added health benefits of hydrogen.
Recent Studies by published by Medical Molecular Hydrogen Symposium shows that drinking hydrogen rich water can provide antioxidant health benefits that may prevent the symptoms of Brain diseases. Other health benefits attributed to drinking hydrogen rich water include lowering cholesterol levels and supporting beneficial probiotics in the gut.
LIFE's new hydrogen drinking water machine makes ionized drinking water that is fortified with 0.8 – 1.2 parts per million hydrogen (ppm), and studies suggest that water with just 0.3 ppm can provide clinically significant benefits. The ionized water made by the hydrogen machine also has Oxidation Reduction Potential up to -450 mV.
LIFE Hydrogen Water Machine Features
The hydrogen water machine comes with dual internal filters that use LIFE's patent pending Vitamin C Ceramic Block filter technology for maximum chlorine reduction. The system has 7 platinum-coated titanium MESH plates and uses a Dupont Nafion Cation Exchange Membrane to generate hydrogen using electrolysis.
The system uses an energy efficient 120 Watt power supply, and has an ozone self-cleaning function to maintain the hydrogen water's purity. Users can expect the machine to produce about 1 - 2 liters per minute of hydrogen rich drinking water.
The Difference between Alkaline Water Ionizers and Hydrogen Water Machines
Alkaline water ionizers and hydrogen machines use similar technology – water filtration and electrolysis – to make purified drinking water with antioxidant benefits. But there is a difference between the waters produced:

Alkaline Water Ionizers raise the pH of water and increase the antioxidant ORP
Hydrogen Water Machines make hydrogen rich water with antioxidant ORP but don't significantly raise the water's pH
LIFE Ionizers offers both systems for consumers who want a choice. Antioxidant alkaline water machines offer pH balanced ionized alkaline water; the hydrogen machine makes hydrogen rich antioxidant ionized water.
LIFE Ionizers Chief Executive Visionary, Rick H. Cabados is very excited about the potential health benefits offered by the new hydrogen water machine: "Clinical studies on the therapeutic use of hydrogen over the past few years have shown that hydrogen holds a lot of promise in preventing painful loss of memory and abilities that accompany neurodegenerative disease. I felt it was critical to offer this exciting new health technology to the public"
About LIFE Ionizers
LIFE Ionizers was founded by Rick H. Cabados, he and his research and development team has over 38 years of water treatment experience. LIFE Ionizers holds many patents which are a tribute to Cabados' commitment to providing cutting edge water treatment products to consumers.
For more information on the LIFE Hydrogen water machine please visit: http://www.lifeionizers.com/products/ionizers/hydrogen-water-machine.html