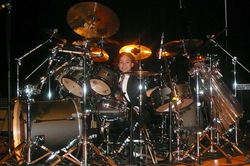 Ensuring cellular hydration has certainly helped Julian cope with his never ending busy schedule
Carlsbad, CA (Vocus) December 29, 2009
As a traveling Rock Star at such a young tender age, Julian's parents, his strongest supporters, were concerned about his busy schedule. Julian's mom, Lisa Pavone M.D. double board certified, recognized the immediate health benefits of drinking LIFE Alkaline Water. "Ensuring cellular hydration has certainly helped Julian cope with his never ending busy schedule" says Lisa Pavone M.D. Traveling with Life Ionizer Alkaline Water around the country, Julian is not only entertaining the masses with his astute musical gift, but also educating people on the benefits of drinking Alkaline Water.
Julian's public support for Dr. Craig Oster and Craig's struggle with ALS prompted Life Ionizers to answer the call! In partnership with Julian Pavone, Life Ionizers created a website dedicated to financially supporting Dr. Craig's ALS battle. Now, you can enjoy the benefits of drinking Alkaline water while supporting Dr. Craig's battle, all thanks to young Julian Pavone. All profits from http://www.LittleDrummerIonizer.com will go to Dr. Craig's Oster Trust Fund. Such is young Julian's support for ALS, that in 2009, Julian was named Muscular Dystrophy Association Honorary Goodwill Ambassador. Life Ionizer is honored to be supporting Julian Pavone and Dr. Craig Oster.
For more information about Julian Pavone, "The World's Youngest Drummer"!, visit: http://www.JulianPavone.com
For more information about Dr. Craig Oster and ALS, visit: http://www.HealingWithDrCraig.com
To learn more about the LIFE Ionizers line of alkaline water ionizers, visit: http://www.LifeIonizers.com
About LIFE Ionizers:
LIFE Ionizers International headquarters is located in beautiful Carlsbad, California with additional offices in Canada, Europe and now in Australia. The Company has been in the water ionizer industry for 14 years and manufactures and distributes home, commercial and agricultural water ionizer systems. LIFE technologies are cutting edge as a result of their never-ending quest for technological superiority with such exclusive innovations as the LIFE UV Light Technology™ and the Vitamin C Ceramic Filter Technology™ for chlorine & chloramine reduction. It is the 1st and only Water Ionizer to be listed in the World Wide Physicians' Desk Reference (PDR). The choice is simple…choose LIFE™.
###