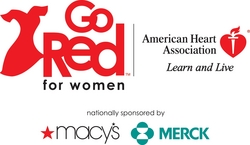 Independence, OH (PRWEB) February 3, 2010
Life Line Screening is proud to support the American Heart Association's "Go Red for Women" event in Denver, Colorado. The "Speak Up To Save Lives" casting call will gather women who have a compelling story to tell that inspires others.
The AHA in Denver is holding the casting call on February 6, 2010 at Macy's in Cherry Creek. Women who share their stories will have the chance to become a spokesperson for the cause and become a part of the American Heart Association's national "Go Red for Women" marketing campaign.
Life Line Screening will provide 50 complimentary blood screenings for c-reactive protein at this event. C-reactive protein is a marker for inflammation that can indicate if you are at risk for heart disease.
To pre-register, contact Sara Tobin at 303-996-8057. Walk-ins are welcome! For more information, those interested can also visit the AHA website.
Help save lives using the power of your very own voice. Be a part of this extraordinary day. Go Red for Women is nationally sponsored by Macy's and Merck.
Life Line Screening thanks Inverness Medical for the donation of the equipment needed to do the c-reactive protein tests.
About Life Line Screening
Life Line Screening was established in 1993, and has since become the nation's leading provider of preventive health screenings. The screenings are provided in comfortable, familiar community settings such as churches and community centers and are conducted by highly qualified healthcare professionals. The non-invasive, inexpensive and painless tests help people identify their risk for stroke, vascular diseases or osteoporosis early enough for their physician to begin preventive procedures. Visit the web site at http://www.lifelinescreening.com.
###