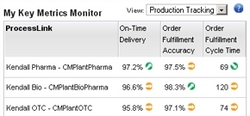 Paul and Emmanuel are key additions to our team as we seek to help Life Science companies, their CMO/CPOs and supply partners improve manufacturing and supply chain performance in areas such as right-first-time quality, cycle time and on-time delivery
Woburn, MA (PRWEB) March 8, 2011
TraceLink, Inc., the provider of the World's 1st Industry-Wide Supply Collaboration Network, today announced that Paul Manganella, Vice President of Sales and Emmanuel Hadzipetros, Product Manager for B2B Process Integrations have joined the company to expand its expertise in building large-scale interoperable supply networks and high performance SAP business system connectivity.
Paul Manganella has been appointed Vice President of Sales and will oversee all of TraceLink's global sales operations. Mr. Manganella is responsible for building the team providing TraceLink's supply chain integration, collaborative manufacturing and product traceability solutions to customers at all points in the Life Sciences supply chain from raw material suppliers and pharmaceutical / biopharmaceutical companies to wholesale distributors and pharmacy chains. Mr. Manganella joins TraceLink as an accomplished sales leader with over 25 years experience building supply networks and selling enterprise solutions. Prior to joining TraceLink, Mr. Manganella was most recently with Global Healthcare Exchange (GHX) where he was Vice President – Sales and Professional Services for the Eastern United States and responsible for expanding GHX's healthcare supply chain network to connect over 2,000 healthcare facilities in the United States.
Emmanuel Hadzipetros has been appointed Product Manager for B2B Process Integrations and is responsible for building system integration solutions and tools that help companies quickly connect to the TraceLink Network through standardized integration adapters that include common formats such as SAP IDoc, EDI, XML and CSV. Prior to joining TraceLink, Mr. Hadzipetros was most recently with THQ Inc. where he was Manager, Global E-Commerce. Mr. Hadzipetros has also been a noted consultant working with a range of companies to integrate high volume supply chains including NBC Universal Home Video, Paramount Pictures Home Entertainment and Allied Domecque Wines. A prolific author on optimizing SAP enterprise integration, Mr. Hadzipetros penned the industry reference book for SAP integration "Architecting EDI with SAP IDocs".
"Our mission is to help companies across the Life Science supply chain improve manufacturing and supply chain performance by integrating them into a collaborative supply network," said Shabbir Dahod, president and CEO at TraceLink, "Paul and Emmanuel are key additions in helping us realize this vision through their deep experience with the challenges faced by companies who want to break down traditional supply collaboration barriers and improve KPIs like right-first-time quality and order-to-cash cycle time."
About TraceLink:
TraceLink helps companies across the Life Sciences supply chain connect and collaborate to improve manufacturing and supply chain performance through the TraceLink Network. The TraceLink Network is a Cloud-based platform that prevents counterfeits, detects diversion, minimizes inventory, reduces cycle-time and ensures on-time delivery for all members of the supply chain by integrating its participants into a network of interoperable, collaborative business processes shared across companies. Pharmaceutical/biopharmaceutical companies and their supply chain partners quickly forge high-value partnerships by connecting with an "integrate-once, interoperate with everyone" transaction platform, an integrated set of shared business objects and a collaborative team workspace based on social network principles that puts key and actionable supply network data into the hands of business owners.
TraceLink is funded by FirstMark Capital, a venture capital firm managing more than $2 billion in capital commitments. For more information on TraceLink and our solutions, visit http://www.tracelink.com.
###