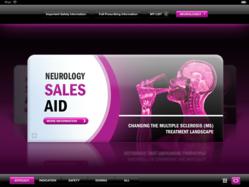 Our ability to seamlessly integrate multiple media types and interactive elements, using the diverse array of skill sets within the company, enables us to deliver engaging apps that truly leverage the device hardware and have lasting impact
San Francisco, CA (PRWEB) July 17, 2012
Since the launch of the iPad in 2010, Apple has sold ~58 million units worldwide.(1) The company currently maintains an estimated 70% market share in the tablet market affirming its dominant position in the space. (2)
According to Manhattan Research, physicians have been one of the biggest adopters of this mobile device. Their most recent survey of US physicians in 25 specialties found that 45% currently owned an iPad, with an additional 29% stating that they planned to purchase this product within the next six months (as of May 2012) (3).
Physicians report using their mobile devices for various professional purposes including communicating with colleagues, accessing treatment guidelines, referencing drug information, reading journal articles and abstracts, checking formulary status, etc.
Viscira, a leading provider of interactive, new-media and technology solutions for the life sciences industry, has experienced significant growth aided by the wave of iPad adoption by medical groups and physicians of all kinds. The company continues to see a significant increase in business coming from their development of innovative iPad apps for their clients, many of which are ultimately used or seen by physicians.
The company is fully leveraging its industry knowledge, creative design skills, video and animation production capabilities and software programming expertise to develop a wide array of unique, visually-stunning applications for the iPad and other mobile devices including:

Dynamic interactive sales aids for disease and product education
Interactive treatment algorithms and product dosing calculators
Interactive presentation builder and delivery platforms
User-friendly disease management and medication adherence tools
In addition, the company can optimize nearly all of its web-based solutions for iPad viewing, including 3D MOA animations, enhanced KOL videos, product and disease education websites, and interactive case studies.
"Viscira is uniquely positioned to continue capitalizing on the growing trend of iPad usage by physicians and our life science clients," explains Dave Gulezian, President & CEO of Viscira. "Our ability to seamlessly integrate multiple media types and interactive elements, using the diverse array of skill sets within the company, enables us to deliver engaging apps that truly leverage the device hardware and have lasting impact."
________________________________________________________________________________
(1) CNET News, March 11, 2012
(2) TechCrunch, April 24, 2012
(3) Manhattan Research, "Taking the Pulse US v12.0", 2012
________________________________________________________________________________
About Viscira
Viscira is dedicated to the design and development of new-media communication solutions and interactive software applications for the life sciences industry. Viscira provides a suite of programs that provide best-in-class technology solutions to deliver engaging and memorable content via various electronic channels. For more information, please visit the company's website at http://www.viscira.com or contact Noёl Ashekian at (617) 429-0834.
###
Press Contact
Noёl Ashekian
Marketing Communications Manager - Viscira
Phone: (617) 429-0834
Email: nashekian(at)viscira(dot)com