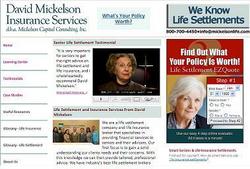 We are looking to expand rapidly over the next two to three years and are very committed to diversity. We're also continuing to build our web presence to share free investment advice. We look forward to what 2009 will bring
San Diego, CA (PRWEB) March 26, 2009
Mickelson Capital Consulting (MCC), a registered investment advisory company and creator of alternative asset class investments, announced today that it achieved solid returns in 2008 despite the tough economy. The boutique firm says that the credit crisis is creating new alternative investment opportunities in life settlement and PIPEs (Private Investment in Public Equity), while introducing new ways for companies to raise difficult-to-find capital. MCC attributes its success to its unique investment strategy and commitment to providing high net worth clients with complete transparency and hands-on service grounded by integrity, high ethical standards. MCC cautions investors against firms that do not allow clients "behind the scenes" so they may thoroughly understand where and how their money is being invested. Mickelson is growing and recently opened new offices, expanded its staff, and is expecting to recruit more new talent in early 2009.
"We are continually seeking unique alternative investment opportunities for our clients," said MCC President, David Mickelson. "Despite the faltering economy, in 2008, this strategy was highly successful, and 2009 is looking very favorable."
Alternative Investment Strategy
MCC has a growing reputation in the alternative investment space. The firm's PIPE strategy identifies promising small public companies with high-growth potential and invests directly into them in exchange for newly-issued stock at a deep discount to the market. PIPEs are creating a new way for companies to secure private equity.
"The market upheaval has dramatically reduced the availability of capital. This creates an opportunity for the prudent PIPE investor in that high-quality companies are offering exceptional terms for immediate capital infusions," said Mickelson.
MCC also advises clients about life insurance and life insurance settlements. A life settlement company enables high net worth clients to convert their large life insurance policies from an illiquid asset into cash and can arrange new policies that better meet their needs, budget. Since the market's inception, MCC, an authorized life settlement broker, has seen many clients through successful transactions.
Mickelson said, "We advise and assist investors entering the life settlement (LS) market as it is an excellent alternative investment class. Our extensive experience with the complexity of life insurance and life settlement transactions makes our firm an ideal partner for investors to safely evaluate and participate in this asset class."
Mickelson is seeing signs of a new emerging use for LS as collateral to guarantee loans and in hybrid investment funds/vehicles. Investors will allocate a percentage of their investment funds for the purchase of LS. This effectively guarantees the return of principle. The remainder is used for the primary investment strategy.
"Life settlement offers a definitive payout backed by the credit of A-rated or better life insurance companies, so they are attractive collateral. Companies can purchase enough LS as a hard asset that a bank will then lend against," added Mickelson.
Hands-On Service, 100% Transparency
Mickelson's reputation is grounded in the firm's commitment to building and maintaining strong client relationships. Unlike other firms, the MCC Team takes the time to understand each individual's needs to ensure that all recommendations provided reflect their specific circumstances, values, goals and desires.
Mickelson is committed to providing clients with complete transparency. The firm has an open door policy where clients may visit the office with very little notice to review all investment documents and regularly speak with principals. MCC cautions investors against firms that do not allow clients "behind the scenes" so they may thoroughly understand where and how their money is being invested at all times.
"Our clients and business partners deserve honesty and genuine concern for their best interests. We strive daily to earn their trust and respect. Our growing team of financial professionals is highly ethical, experienced and dedicated to providing clients with complete transparency, disclosure and privacy," said Mickelson.
Growth & Local Recruiting
Mickelson recently opened offices in the new ocean-view mid-rise building at 301 Mission Avenue in Oceanside. The company has hired two new employees and is expecting to recruit other talent in the fields of life settlement and investment analysis. In addition, Mickelson has just completed a major investment in IT infrastructure for state-of-the-art financial management.
"We are looking to expand rapidly over the next two to three years and are very committed to diversity. We're also continuing to build our web presence to share free investment advice. We look forward to what 2009 will bring," added Mickelson.
About Mickelson Capital Consulting
Mickelson Capital Consulting (MCC) is a registered investment advisory company and creator of alternative asset class investments in the areas of life settlements and PIPEs (Private Investment in Pubic Equity). It provides customized investment solutions that are designed to build and protect the wealth of its clients and advisor (RIA) partners. MCC's reputation is grounded in its commitment to providing high quality, "hands on" customer service. MCC also has established strong relationships with an extensive network of registered investment advisors, investment bankers, fund managers, lawyers and CPA's. For more information, visit:
Corporate: 1-760-804-8050 http://www.mickcap.com
Life Settlement: 1-800-700-4450 http://www.mickelsonlife.com
# # #