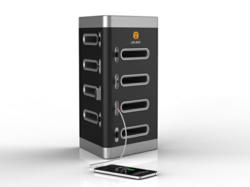 Charlotte, NC (PRWEB) February 22, 2013
Life-Spot, one of the latest consumer and commercial electronics companies, has sought out Command Partners to lead all of its digital marketing initiatives.
Life-Spot is a highly efficient and universal cell phone charging station for the home, office and business which includes four micro USB ports, two Apple lightning ports and two Apple 30pin dock connectors. What is one thing all mobile phones have in common? They all require battery life to work and Life-Spot allows users to charge up to eight phones at once. Each of Life-Spot's compartments have a unique, retractable adapter which allows mobile devices of any brand to connect easily and safely while keeping the area organized and clutter-free.
"We came up with the idea for Life-Spot at our daughter's birthday party," says Judith Altheim, Co-Founder of Life-Spot. "We had friends and family over and people were asking to charge their phones. Unfortunately, we only had two chargers and they were not compatible with their cell phone models."
Currently, Command Partners is assisting Life-Spot in carrying out a successful crowdfunding campaign on Kickstarter, the most popular crowdfunding platform today, and raising the funds necessary to manufacture the product. Some of the agency's services include Kickstarter page layout and messaging strategy, social media management, public relations and more. Command Partners' proven track record for success puts Life-Spot in a favorable position.
"Life-Spot fills a need in the market and will prove to be very useful in a variety of commercial settings," says Roy Morejon, Managing Partner of Command Partners. "Given our Kickstarter marketing expertise and experience, we are confident Life-Spot will be received very well by the Kickstarter community."
For more information on Life-Spot or to support the project and make a donation, visit the project's Kickstarter campaign page here: http://bit.ly/Life-SpotKS before Friday Mar 22 at 7:00pm EST.
About Life-Spot
Life-Spot is a new electronics company dedicated to making things more simple and convenient for our everyday lives. With a passion for design, Judith and Aaron Altheim founded Life-Spot and have worked with a talented team of designers and engineers to bring the new Life-Spot charging station to life. For more information, visit http://www.Life-Spot.com, Like them on Facebook at http://www.facebook.com/LifeSpotCharger and follow them on Twitter at http://www.twitter.com/Life_Spot.
About Command Partners
Command Partners is a digital media agency that focuses on driving online visibility and lead generation including social media marketing, search engine optimization, public relations and strategic advisory services. Command Partners works with clients ranging from high-tech startups and e-commerce brands to Fortune 500 companies. The agency is located in Charlotte, North Carolina and works with clients around the globe.
For more information on Command Partners' services, visit http://www.commandpartners.com and like them on Facebook.