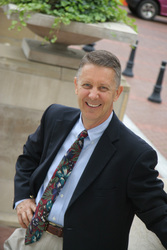 Life Happens … when your spouse of 25 years files for divorce, leaving you with four children and a large mortgage.
Greenville, S.C. (PRWEB) December 14, 2009
In these difficult times, it is often hard to be joyful during the holidays, unless people remember a message for the ages: Less equals more.
Executive Life coach and speaker Eric Swenson has seen an alarming trend the last five years of people collapsing under the weight of too many burdens; caught up in the "busy-ness" of the world and losing control of their lives.
"It is truly amazing how, by giving up a few things, our lives can be greatly simplified," said Swenson. "The essence of Less = More is that "things" prevent us from spending precious time with family and loved ones. Putt down the PDA and see how much time you'll now have to take a walk or hike with your spouse, play with your children, or take a break from work to walk around and see all that our surroundings give us."
Especially during the holiday season, Swenson says it is critically important to take stock of what is really important. He offers these simple steps to help people prioritize and balance their lives.
1. Learn to say NO – Living life to the fullest can be as simple as learning to just say no to the things that are sucking the very life out of us.
2. Have accountability partners – Find two people to meet with once a week in person or by phone who will hold you accountable to the decisions you make in balancing your life.
3. Take mental and physical weekly vacations – Take a mental break, Go down that winding path … climb that mountain … cycle or kayak into pristine surroundings in your mind. Do that for 10 minutes away from your computer or desk every day. For physical vacations, plan half-day or day trips each week with the kids. These trips should be expensive; walk the trails or bike paths, take a nature hike, or go to the local zoo. The point is to get away as a family or couple and do something away from work.
4. Commit to morning quiet time – This is your time to meditate, communicate spiritually and prioritize the important matters in your life.
As an executive life coach, keynote speaker, and author Eric Swenson shares his own personal experiences as an entrepreneur, executive coach, husband, and father to clients and audiences around the country. He helps people to identify their true goals and unshackle themselves from the "tyranny of the urgent."
Lifestyle/Religion Editors Note: The following 350 word article may be used as is or serve as a basis for a deeper piece.
###