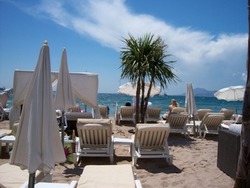 Working with a life coach can literally change your life by challenging you to recognize and build on your strengths, explore your current reality and find positive ways to make a transformation.
Owings Mills, MD (PRWEB) August 23, 2010
The Life Abroad Coaching Workshop is an intensive 3- day program which introduces participants to a new life abroad. This empowering workshop immerses one into self-discovery and is comprised of coaching sessions and training sessions. During the program, clients will create a personal road map for building a successful life abroad. Each day there will be coaching sessions designed to help discover what the client really wants from life and establishing a plan of action. Coaching sessions are always followed by a training sessions which provide tools for setting up a new life abroad in another country.
Life Coaching is a means of motivating and facilitating people to acheive their true potential through setting and acheiving self- defined goals. During these workshops, held year round, the coach guides clients through the all important process of setting goals. These workshops are fun, inspiring and engage the paticipants with powerful but simple techniques to aid in transforming their lives. Workshop components will involve topics such as, isolating what is really wanted out of life, identifying values, establishing an action plan and cultural challenges. Visualization exercises, interactive activities combined with coaching allow participants to leave the workshop knowing what they want and the actions they will take to get there with great clarity.
"Working with a life coach can literally change your life by challenging you to recognize and build on your strengths, explore your current reality and find positive ways to make a transformation" says Gyl Golden, director at The Language House. "Life Coaching is a life changing process which allows you to explore your ideas, fears, goals, challenges and then guides you towards creating the life you really want" she adds. The Language House's Life Abroad Coaching provides special emphasis on helping those who wish to change their lives by living abroad or spending a long-term period traveling.
Gyl Golden facilitates these workshops. Gyl Golden is a job abroad coach and specialist in cross cultural transition with special focus in the Mediterranean. She has a certificate in Personal Performance Coaching issued by The Coaching Academy and is a member of the International Coach Federation. With over nine years of living abroad as an expatriate in countries such as Japan, Thailand, Spain, France, Morocco and Italy, Gyl has been motivating her clients to live and work abroad successfully.
Along with the workshops, Gyl Golden and The Language House offer a variety of services to help people realize their goals of living and working abroad. Services include an internationally recognized TEFL (Teachers of English as a Foreign Language)Certificate program, language study programs throughout the mediterranean countries and combination travel & study tours. Because of their long standing reputation, they are in a position to provide the coaching needed to help everyone live the life of their dreams abroad.
About The Language House
The Language House, an American corporation, operates by creating a network of alliances with existing language schools, businesses and organizations in the Mediterranean. By using only existing businesses and resources, The Language House is not only a full service gateway to Mediterranean countries for its clients but also contributes to the local communities where their sites are located.
For those who would like to go to France to take the coaching workshop, The Language House also provides lodging assistance as well as optional excursions once the workshop is complete. This makes it a week's vacation in the south of France! To take the first step to a life-changing experience enroll on The Language House's 3-Day Life Coaching Workshop.
Media contact: The Language House Inc. Gyl Golden
# # #