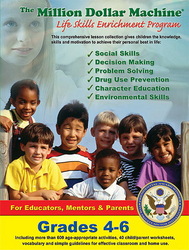 Our lessons start by teaching kids that their bodies are priceless and irreplaceable. We use clear concepts to motivate children to stay healthy and be their best
Hainesport, NJ (PRWEB) March 18, 2009
As budgets shrink a "Million Dollar Machine" sounds too expensive for our schools to invest in... until you realize that the term refers to the bodies of the children themselves. The Million Dollar Machine (MDM) is a proven life skills program that gives teachers and parents effective tools to help elementary school children grow up healthy and happy.
"Our lessons start by teaching kids that their bodies are priceless and irreplaceable. We use clear concepts to motivate children to stay healthy and be their best " notes program co-author Kent Davis.
For more than 20 years, Davis has worked with experts developing, refining and testing the MDM program in classrooms across the United States. First introduced as an anti-drug strategy for teachers frustrated with simplistic "Just Say No" slogans, researchers based MDM life skills on proven educational methods, motivational techniques, interactive lessons and parental involvement.
By design, MDM lessons inspire children to adopt healthy attitudes, improve study skills and to avoid drugs and other risky behaviors. Scientific validation by researchers at Columbia University School of Social Work and New Jersey's University of Medicine and Dentistry confirms MDM's effectiveness. The program won a Presidential Award at the White House and more than 3 million children have benefited from MDM lessons through school-based programs. MDM lessons also get parents involved through assignments that students complete at home.
"For life skills education to really work, parents must be involved in the process. MDM lessons are easy to use and give parents a roadmap to communicate and grow with their kids." comments Jeanne Burckhardt, a mother of two who has coordinated school life skills programs since 1993.
The new 2009 MDM lessons for school and home use give teachers and parents hundreds of creative ways to bond with children and inspire them to be their best. Two lesson collections for Grades K-3 and 4-6 are available on Amazon or as instant downloads from the LifeSkills4Kids website. Printed and digital editions include 1,200 integrated activities in a variety of learning styles, 80 interactive parent/child worksheets and vocabulary. Concise guidelines make it easy for teachers and parents to begin using the lessons with their children immediately.
Teachers, mentors and parents praise MDM because it's easy to use and it works. Children enjoy the life skills activities because they're fun. "This new edition for school and home provides educators and parents with science-based teaching techniques to cultivate healthy, confident, motivated children" concludes Columbia researcher Dr. Steven Schinke.
ABOUT THE PROGRAM: Details on the Million Dollar Machine Life Skills Program; scientific validation; lesson samples; and life skills articles are available at http://www.LifeSkills4Kids.com
PUBLISHER: DatAsia, Inc is a Florida based educational publisher affiliated with PMA (The Independent Book Publishers Association) and SPAN (Small Publishers Association of North America).
MEDIA CONTACT: Kathi Rolfe - Direct line: 941-778-3086 (Florida, USA)
# # #