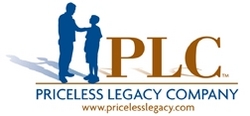 Julie will make a tremendous contribution to our growing force of Legacy Consultants
Dallas, Texas (Vocus) July 3, 2009
Legacy Consultants are charged with publicizing the important notion that every person's life story or personal history should be captured and preserved. LCs do this by educating community groups and families about the importance of life story preservation. Legacy Consultants also interview subjects, organize photographs and serve as a liaison between the subject and the company. The result of this proprietary process is a beautiful full color hardcover book and supporting audiovisual materials that the subject and his or her family will cherish literally forever. Also known as memoirs and biographies
"Julie will make a tremendous contribution to our growing force of Legacy Consultants," said Peter A. Gudmundsson, CEO and Founder of the Priceless Legacy Company. "Her passion for people, organizational skills and concern for quality will take her far as she builds her Life Story business."
"I am honored and excited to get started as a Legacy Consultant," said Davis, "I have been truly blessed to be given this opportunity of aiding in the preservation of people's lives and experiences, while enhancing my comprehension of the beauty that is the human spirit."
Julie will begin work immediately on educating her community and plans to begin work on her first Life Story project presently. She can be reached at 402-203-9364 or http://www.pricelesslegacy.com/jdavis.
Based in Dallas, Texas, The Priceless Legacy Company is a privately held custom media publishing company dedicated to helping people preserve their life legacies for the benefit of future generations. The company serves people through its fast expanding network of Legacy Consultants. Currently active in twenty three states and one province, Priceless Legacy's consultants meet with clients to help them record their life story. Services include interviewing, photo organizing and scanning and the production of beautiful heirloom quality Life Story Packages. The company's website is http://www.pricelesslegacy.com.
Contact: Peter A. Gudmundsson, CEO & Founder
214.272.2363 (work)
###