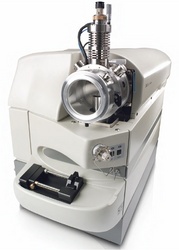 Food safety is one of the most important issues for government agencies and industry around the world
SHANGHAI, China & CARLSBAD, Calif. (PRWEB) December 2, 2008
Melamine contamination in dairy products is getting widespread attention following recent media reports of outbreaks in China and other countries. More than 94,000 infants and young children have been treated for health issues related to tainted infant formula and other products. China is responding to this issue with a series of actions that include increased food safety testing.
Melamine is a synthetic substance generally used in making plastics and fertilizer. The nitrogen-rich molecule is sometimes illegally added to consumer and animal food products in order to increase their apparent protein content. Melamine is known to cause renal and urinary problems in humans and animals; therefore, its use in food production is universally banned.
The Chinese government and industry are taking action to protect a broad range of food products and animal feed through enhanced testing procedures that require laboratory instrumentation capable of precise identification of melamine and other contaminants.
The Chinese General Administration of Quality Supervision, Inspection and Quarantine and two dairy manufacturers – Shanxi Gucheng and Yashili Dairy Company – are leading the efforts to establish the highest standards of food safety. These organizations recently deployed five API 3200™ mass spectrometry systems, which scan, identify and measure the quantity of various food contaminants. These systems deliver high sensitivity, selectivity, high speed and reliability of results in laboratory analysis, enabling rapid detection and ultimately stronger enforcement of food safety regulations.
"Life Technologies' vision is to apply our depth of scientific technologies throughout the global community to help improve the human condition," said Greg Lucier, Chairman and Chief Executive Officer of Life Technologies. "In a recent meeting with the Chinese Minister of Health, Dr. Zhu Chen, I conveyed our readiness to use the full spectrum of Applied Biosystems and Invitrogen-branded solutions in support of the Chinese government's efforts in food safety testing initiatives. We are committed to working with governments and industry to address some of society's most critical challenges through the application of biology."
These recent deployments of AB SCIEX mass spectrometry systems expand a growing network of systems, specialized software and test methods, developed specifically for China. These solutions are being utilized by the government at various branches of the China Entry-Exit Inspection and Quarantine Bureaus, contract testing laboratories and food manufacturers.
The issue of melamine contamination has not been limited to China. Incidents have been reported in a number of countries, including its recent discovery in trace amounts in infant formula in the United States. This has led to a new U.S. Food and Drug Administration threshold of 1 part per million of melamine for infant formula to be considered safe for consumption. Applied Biosystems/MDS Analytical Technologies' mass spectrometry systems, including the AB SCIEX 5500 systems and the API 3200 system, are capable of identifying melamine at the lowest possible levels of detection.
"Food safety is one of the most important issues for government agencies and industry around the world," said Laura Lauman, President of Life Technologies' mass spectrometry systems division. "AB SCIEX mass spectrometry solutions are playing a critical role in helping China and other countries, including the United States, to ensure the safety of food being produced for consumption inside their borders and abroad."
Applied Biosystems is a market leader in mass spectrometry solutions through its joint venture with MDS Analytical Technologies. For more information, please visit: http://www.appliedbiosystems.com.
About Life Technologies
Life Technologies Corporation (NASDAQ:LIFE) is a global biotechnology tools company dedicated to improving the human condition. Our systems, consumables and services enable researchers to accelerate scientific exploration, driving to discoveries and developments that make life even better. Life Technologies customers do their work across the biological spectrum, working to advance personalized medicine, regenerative science, molecular diagnostics, agricultural and environmental research, and 21st century forensics. The company had sales of more than $3.5 billion in 2008, employs 9,500 people, has a presence in more than 100 countries, and possesses a rapidly growing intellectual property estate of over 3,600 patents and exclusive licenses. Life Technologies was created by the combination of Invitrogen Corporation and Applied Biosystems Inc. For more information on how we are making a difference please visit our website: http://www.lifetechnologies.com.
Safe Harbor Statement
Certain statements contained in this press release are considered "forward-looking statements" within the meaning of the Private Securities Litigation Reform Act of 1995, and it is Life Technologies intent that such statements be protected by the safe harbor created thereby. Potential risks and uncertainties include, but are not limited to: potential difficulties that may be encountered in integrating the merged businesses; potential uncertainties regarding market acceptance of Life Technologies; Life Technologies' ability to protect its intellectual property rights; competitive responses to the merger; an economic downturn, including the deterioration in economic and market conditions currently being experienced; risks that revenues may be lower than expected; Life Technologies' ability to make accurate estimates and control costs; Life Technologies' and its partners' ability to bid on, win, perform and renew contracts and projects; the need to develop new products and adapt to significant technological change; exposure to environmental liabilities and litigation; liabilities for pending and future litigation; the impact of changes in laws and regulations; industry competition; Life Technologies' ability to attract and retain key employees; employee, agent or partner misconduct; risks associated with changes in equity-based compensation requirements; Life Technologies' leveraged position and ability to service debt; risks associated with international operations; third-party software risks; terrorist and natural disaster risks; anti-takeover risks and other factors; as well as other risks and uncertainties detailed from time to time in Life Technologies' Securities and Exchange Commission filings.
For Research Use Only. Not for use in diagnostic procedures.
Copyright 2008. Life Technologies Corporation. All rights reserved. Applied Biosystems is a registered trademark of Life Technologies or its subsidiaries in the US and/or certain other countries. API 3200 is a trademark of Applied Biosystems/MDS Analytical Technologies, the joint venture between Life Technologies and MDS Inc.
MULTIMEDIA GALLERY http://www.businesswire.com/cgi-bin/mmg.cgi?eid=5841297