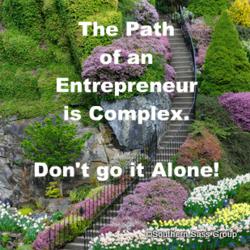 Start moving forward with your dream
Atlanta, GA (PRWEB) January 22, 2013
The Community for Conscious Entrepreneurs, Life Business Growth, announced several new opportunities for women business owners to up-level their business this month.
Jenny Fenig's all-new free training call series, "60 Days to Freedom: Living Your Dream Full-Out in 2013 Even if You Don't Know What You Want." happens January 23–24, 2013. This training is for women who are in jobs they dislike or who have passion-based businesses that don't generate enough money. Fenig says the 2-part training will help participants, start moving forward with their dream, super-fast. Register here.
Vanessa Simpkins, author of From Bankrupt to $900/Day Selling Mops, announces her 8-day spiritual adventure on the island of Kauai. The Take Your Power Back Live Retreat shows participants how to move into alignment with the power of love, the flow of trust and their own divine feminine energy. The retreat takes place March 18-25, 2013. Registration includes instruction, meals, excursions, island transport and lodging. For more details, visit [Take Your Power Back Live Retreat.
Expert accounting professional Carol LeBlanc offers entrepreneurs a safe space to talk freely about all aspects of their finances—from creating successful systems to setting money goals—without the formal approach of a traditional CPA. In addition to done-for-you virtual bookkeeping services, LeBlanc offers an affordable 3 Month Program for Emerging Entrepreneurs who simply need support as they get their business up and running.
Elaine Wellman offers a new workbook of happiness strategies that help you rock your business and life - The #1 Secret to Happiness for Successful Women: An Astonishingly Simple Workbook to Skyrocket Your Happiness, Boost Your Business, and Make YOU Wildly Successful. Wellman also hosts a free, one-hour teleclass on January 22 at 8 pm EST, "Get Happy, Get Business! 3 Stellar Secrets to Attract Clients Faster Than You Thought Possible." Visit http://www.elainewellman.com for details on both.
Self-Worth and Prosperity Author and Advocate Ingrid Geronimo has created a new online course: "Six Steps to Increased Self-Worth & Increased Prosperity." Explore feelings of worth and see the profound impact this has on every area of life, especially business. Increased self-worth equals increased prosperity—it's that simple. More details can be found here.
About Life Business Growth
Founded in 2012 by Kerry Swetmon, Life Business Growth is a holistic movement toward owning a business, nourishing the soul, and creating a life to love. For more information on the organization and the women it supports, visit http://www.lifebusinessgrowth.com.