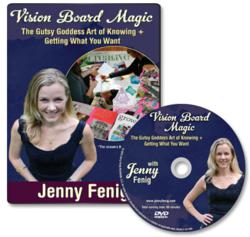 When you want big things to happen in your life and work, you must be willing to make LEAPS and do what it takes to create and live your vision.
Atlanta, GA (PRWEB) February 21, 2013
Life•Business•Growth expert Vanessa Simpkins, author of From Bankrupt to $900/Day Selling Mops, is leading an 8-day spiritual adventure on the island of Kauai. The Take Your Power Back Live Retreat shows women how to align with the power of love, the flow of trust and their own divine feminine energy as they become more self-confident, powerful and authentic. This epic Hawaii retreat is for women entrepreneurs who have a taste for adventure and takes place March 18-25, 2013. Beyond daily yoga and workshop sessions, participants travel to some of the island's most magical and sacred spots. $3199 fee includes instruction, all meals, excursions, island transport and 7 nights' lodging in seaside cottages.
Jenny Fenig, another LBG expert, announces the arrival of her brand-new video workshop, "Vision Board Magic: The Gutsy Goddess Art of Knowing + Getting What You Want." In this new DVD, Fenig gives a step-by-step guide for creating a clear vision for your future and accessing your deepest desires and truth. The video was filmed in the powerful Berkshires Energy Vortex in Massachusetts and includes 90 minutes of guided content and teaching from Fenig, who has instructed hundreds of women in this powerful process. The DVD package is available until February 28, 2013 at a special introductory rate of $47.
Life•Business•Growth is the brainchild of founder Kerry Swetmon. The organization's growing online community takes advantage of regular new trainings, retreats, and other resources for women entrepreneurs, presented by resident experts in all aspects of the business world—feng shui, life coaching, bookkeeping, happiness, copywriting, ebook creation, social media and much more. Founded in 2012, Life•Business•Growth is a holistic movement toward owning your business, nourishing your soul, and creating a life you love.