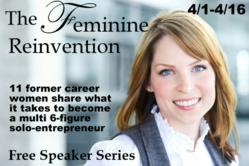 The event is Career Woman to Entrepreneur Specific
Portsmouth, RI (PRWEB) April 04, 2013
The Feminine Reinvention, a free speaker series featuring 12 former corporate employees will inspire and educate women looking to transition into entrepreneurship or those who are looking to grow their business.
The series is the creation of Jeannie Spiro, business coach to thousands of women entrepreneurs seeking business growth. Spiro says, "If you don't know how to grow your business, generate consistent revenue, master marketing and develop an entrepreneurial mindset – your passion and desire alone won't be enough to cut it as an entrepreneur."
In this one-of-a-kind series, listeners will learn:
•Expert tips on how to prepare for solo entrepreneurship- you'll learn what you should focus on before you leave your job and take the entrepreneurial leap.
•How to become a Money Magnet: The Essential Ingredients to Making, Saving and Receiving More
•Decipher when to use debt in your business to help it grow (and when NOT to)
•When is the best time to quit your job for your business and how to know if you're ready to leave the 9-5 behind
•How to generate consistent revenue in your business so you don't have to worry about not being able to pay your bills—or worse yet, having to give up on your dream
The 6 Simple Steps to a 6-Figure Solo Business, Even if You're Starting From Scratch
•How to connect with your soul to birth and build a 6-figure business that fuels your mission
•How to leverage the Web to Succeed on Your Own Terms
•The SECRET to finding your niche-it's not just a matter of choosing a target market
•3 Keys to having a successful business and the best action steps to have more success
•How highly successful women shift their mindset, gain confidence and set themselves up for success
•The 5 limiting beliefs that hold you back from living your dreams
•The REAL meaning of "security"
•A FAST-TRACK strategy to transition from your job to solo entrepreneurship so that you can stop wondering when you can quit and start making plans to give your 2 weeks notice
The series is free to listen in via phone or computer. To learn more about the series or for free registration, please visit The Feminine Reinvention website.
Jeannie Spiro is dedicated to helping career women use the internet to grow a freedom and passion based business. Offering a variety of services including Private and Group Coaching Programs, VIP Private Retreats, Telecourses and Webinars, Jeannie supports women in learning how to market and grow a business online. Spiro is a frequent speaking expert about the employee to entrepreneur transition and her first book is due for release in the Summer of 2013.
For more information or to register free for the event, visit the website