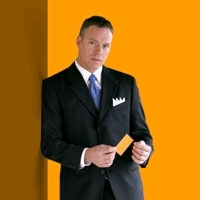 your own personal talisman that begins the process of taking your dreams and ideas, and turning them into realities.
Woodbury, MN (PRWEB) October 15, 2009
If real leaders lead by example, then local resident, author, business owner, and life coach, Dr. Tory Robson, leads the way for anyone who wants to succeed in life with his new book, The Image Doctor. Robson's life, so far, is a series of success stories so it only seems appropriate that he should share his methods and secrets for life success with others.
The Image Doctor relates Robson's personal experiences and shares his own unique methods for getting all you want out of life:
"We all grow up with dreams and wishes and then it seems like life happens and reality sets in, and very few people actually live the life that they dreamed about when they were younger."
The Image Doctor teaches people how to visualize all the good things they want for their lives - love, money, good health and career success - and how to get it. To help people achieve these goals, Robson conceived and created the unique Orange Card or, as he calls it, "your own personal talisman that begins the process of taking your dreams and ideas, and turning them into realities."
"I strongly believe that your life will go nowhere until you have a properly created, engineered, Orange Card in your hand. The Orange Card sharpens the blade, allowing you to cut through all of life's setbacks and restrictions."
Robson graduated from Montana State University with a Bachelors Degree, while simultaneously completing a six-year term with the US Air Force, graduating in the top one percent of his class from the Air Force Military Training Center.
He also received the United States Air Force Airman of the Year Award before taking his honorable discharge to continue his education. He earned his doctoral degree in 1995 from Northwestern Health Sciences University plus has earned over 500 hours of specialized training including credits from Harvard Medical School. He is also a member of the American Academy of Pain Management, the International Chiropractors Association and the Minnesota Chiropractic Association. An avid student of the time tested laws of life success, Robson's ongoing study and knowledge of personal development is most impressive.
A resident of Woodbury, MN for the past five years, Robson currently runs a super successful practice, and two other small companies. Committed to the health and success of the community, he speaks to numerous organizations in the area each year. Recently licensed as a Life Success Consultant by the Legendary Bob Proctor Organization (From the hit movie The Secret), as a certified life coach, he founded Winners Edge Consulting; a firm specializing in personal development to help those of all walks improve key areas of their lives.
Robson can be contacted for interviews or more information by calling 651-746-9036, emailing info (at) winnersedgeconsulting (dot) com or visit http://www.winnersedgeconsulting.com.
###