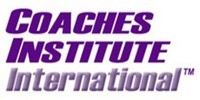 I am excited to be launching Coaches Institute International now because of the growing need for life coaching services
Laguna Niguel, Calif. (PRWEB) December 2, 2008
Educational entrepreneur, Berry Fowler, founder and former Chairman of Sylvan Learning Centers and The Little Gym International, is at it again. Fowler has joined forces with former Worldwide President of Certified Coaches Federation, Barbara Wainwright, and has launched Coaches Institute International (CII) Coaches Institute International. CII provides affordable life coach training and certification to meet the growing demand for services in the coaching industry. CII's weekly Certified Professional Life Coach Courses are conducted live online making attendance accessible and convenient for students across the globe.
"I am excited to be launching Coaches Institute International now because of the growing need for life coaching services," explains Fowler, CII's CEO. "The downturn in our economy is creating multiple opportunities for professionally trained and certified life coaches. During these challenging times an increasing number of people will turn to coaches for help and support in their personal and professional lives. Life coaching is the most effective method I know to promote growth and enhance personal performance."
CII trains individuals to use its comprehensive life coaching system and awards a "Professional Coach" certification at the completion of its 16 hour course. CII coaches learn to help their clients to clearly identify their goals and objectives, develop a plan to achieve them, and take targeted actions that will result in achieving a higher level of success and balance in their lives.
CII offers weekly life coach training classes which are conducted live online. Michael Coyne, a former PepsiCo executive and recent CII graduate says, "I was a bit skeptical of how well the four evening online course would work, but I can honestly say it was one of the best training programs I have ever experienced. I learned everything I need to know to start my coaching practice and I developed some wonderful relationships with the other coaches in my class."
"In preparation to offer our life coach training course to the public, Berry and I invited ten professional coaches, who had previously received certification through other organizations, to attend and evaluate our online Certified Professional Coaches Course," exclaims Barbara Wainwright, CII's president. "We are thrilled to report that our course was rated #1 by these experienced professionals."
Tuition for CII's online Certified Professional Coaches Course is $650 and includes six months of business coaching, a personalized webpage and one year of webpage hosting.
Fowler and Wainwright also conduct classes in person four times each year in various cities around the country. The first in-person course will be held in Irvine, California on January 17 and 18, 2009.
About Berry Fowler:
Coaches Institute International's CEO and co-founder, Berry Fowler, is the founder and former Chairman of Sylvan Learning Centers and The Little Gym International. Fowler has over 30 years of experience in developing and implementing systems, curriculum and training programs that have helped millions of individuals to achieve a higher level of success. Fowler, a former classroom teacher, is a Certified Professional Coach, a Master Coach and the author of Return from Krypton, Rational Steps to Entrepreneurial Success.
About Coaches Institute International:
Coaches Institute International is dedicated to providing the finest in life coach training to passionate individuals who are committed to making a positive difference in the lives of their clients and the world we live in.
Contact:
Barbara Wainwright, President
Coaches Institute International
800-506-9479,
http://www.CoachesInstitute.com
###