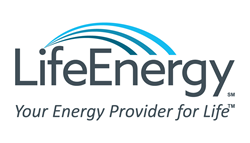 Entering Texas represents a key milestone for LifeEnergy.
Houston, TX (PRWEB) June 14, 2017
Texas-based LifeEnergy, announced today that it is now offering residential and commercial electricity plans in key competitive areas of Texas. With the addition of Texas, LifeEnergy now serves residential and commercial electricity customers in seven states, including Pennsylvania, Illinois, Ohio, Maryland, New Jersey, Delaware, plus the District of Columbia.
"Entering Texas represents a key milestone for LifeEnergy. Texas is the largest retail electricity market in the U.S. and represents a major step forward in our plans to become a national leader in competitive retail energy. We know that our commitment to the customer's best interest which has made us so successful in other states will translate well into Texas," says VP of Sales and Marketing, Dan Sullivan.
LifeEnergy is now serving Texas customers in Centerpoint, Oncor, Texas New Mexico Power, AEP Central, AEP North and Shadyland utility service territories; offering a variety of electricity product plans designed to meet a wide range of customer needs.
"Selecting an energy company and an electricity plan can be confusing and stressful. We will strive to provide a positive customer experience by offering easy to understand contract terms, competitive rates and exceptional customer service. We will work hard to take the stress out of energy for our customers," says Sullivan.
LifeEnergy is one of the fastest growing energy retailers in the country and is an affiliate of LS Power which owns more the 30,000 MW's of power generation across North America. LifeEnergy will soon be expanding into additional Northeastern states over the summer and fall and will be adding other energy-related products and services designed to make customers' lives easier as well.
To Sign up with LifeEnergy or for more information on LifeEnergy products and services, call 844-308-3631 or visit us online.
About LifeEnergy:
LifeEnergy, LLC is a retail energy provider offering innovative products and services to homes and businesses across the US. Formed in 2016, LifeEnergy strives to be "Your Energy Provider for Life" by providing competitive rates and hassle-free customer service. Headquartered in Houston, TX, LifeEnergy is one of the fastest growing retail energy providers in the industry.
About LS Power:
Founded in 1990, LS Power is an employee-owned, independent power company with offices in New York, New Jersey, Missouri, California and Texas. LS Power is a developer, owner, operator and investor in power generation and electric transmission infrastructure throughout the United States. Since inception, LS Power has developed, constructed, managed or acquired more than 30,000 MW of competitive power generation and 500 miles of transmission infrastructure, for which it has raised over $30 billion in debt and equity financing. For more information, please visit http://www.lspower.com/.