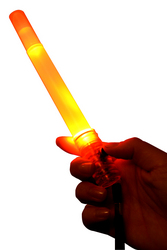 Our original intent in developing these four glow products was to satisfy specific safety and emergency preparedness criteria
Solana Beach, CA (Vocus) August 18, 2009
Life+Gear, the developer and manufacturer of life saving emergency preparedness products, presents its new line of LED glow handled flashlights as an environmentally friendly alternative to the often toxic, one-time use chemical glow sticks so prevalent at special events. The new family of Life+Gear glow handled flashlights that offer 200 and even 400 hours of operational life on one set of small batteries (included) finally offers an excellent glow stick alternative for entertainment, special events and safety operations. Inexpensive, lightweight and available in several festive colors, the Glow family's flagship product, the Life+Gear 200 Hour GlowStick, is available at major retailers* nationwide as well as the 200 Hour Glow Mini Flashlight, 400 Hour Glow Flashlight and 300 hour Glow Spotlight.
"Our original intent in developing these four glow products was to satisfy specific safety and emergency preparedness criteria," commented Life+Gear President Dennis Bertken, "so the revelation that our glow products, especially the GlowStick, would be so perfectly suited to replace chemical glow sticks was an added bonus on many levels. We have focused a great deal on reducing our environmental impact in the integration of hand crank power, super-efficient LED technology, and in the recyclable design of both the products and our packaging. I think that environmentally conscious consumers will appreciate our efforts, especially a cost effective and eco-friendly alternative like the 200 hour GlowStick that also has added life saving features."
The multi-function Life+Gear Glow flashlights utilize advanced LED light technology in a first-of-its-kind combination product that addresses three key recommendations for disaster preparedness: a flashlight, emergency flasher, and signaling glow stick. The 200 hour GlowStick also has a built-in high decibel whistle, and the other three products are water-proof and float with small storage compartments for documents and other vital safety items like matches. In an emergency, the Life+Gear Glow products allow victims to see when they are without power and to be seen or heard when in need of emergency assistance.
The LifeGear GlowStick and Mini Glow Flashlight boast 200 hours of illumination on just three wafer-thin AG-13 batteries – roughly 25 times longer than a set of traditional batteries. The larger Glow Flashlight and Glow Spot use AA batteries for four and three hundred operational hours respectively. Small batteries and LED bulbs and electronics reduce weight more than 90% while increasing the functional product life to 10,000 hours. Available in many different colors, all four products are ideal for boats and camping and the compact sizes make them an excellent safety companion in purses, cars and backpacks.
*Life+Gear products, including the Life+Gear 200 Hour GlowStick ($4.99 msrp), can be found at major retailers throughout the United States including Home Depot, Bed, Bath & Beyond, Target, Kroger, Dicks Sporting Goods, REI and on-line through the American Red Cross.
For additional information, a sample of the Life+Gear Glow products or any of their other Emergency Preparedness Products, please contact Bill Schlueter at lifegear@launchpadpr.com. Please watch this brief GlowStick demonstration video.
About LifeGear
Life+Gear is the most widely recognized developer and manufacturer of emergency preparedness products for consumers, schools and businesses in the United States. Life+Gear is on the development cutting edge of everyday-use products that can also save lives. Nicholas Connor (CEO) and Dennis Bertken (President) founded LifeGear soon after Hurricane Katrina struck in 2005. During their own efforts to provide relief to Katrina victims, the founders quickly realized that there was a population-wide emergency preparedness problem that stretched far beyond the failed levees in Louisiana. They uncovered two main issues: People did not know how to prepare themselves; and the thought of going on a search to purchase such doom and gloom products, if they could find and afford them, was not of interest to consumers. This revelation spawned the idea of affordable, every-day use items with life-saving features that would be readily available at major retailers nationwide. Since the release of their first product offering in 2005, Life+Gear has grown to be the most widely recognized brand of emergency preparedness products in the U.S.
###