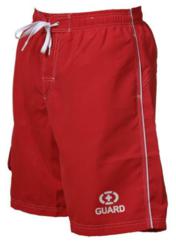 New York, NY (PRWEB) May 29, 2013
These improved swim shorts are designed to be more durable moving through water. Lifeguard swim shorts have more to consider than one who is just looking for a swim suit for recreational purposes. The lifeguard's swim shorts need to be serviceable, much as a policeman's uniform, or a fireman. Yet, it must not hamper his ability to perform his duties, if needed. And, it must be comfortable
Careful thought was put into making the shorts to ensure that swimming at the beach or at a pool has never been easier. The shorts come in several different sizes. These shorts are lightweight and will keep the lifeguard cool for those longs days at the pool or beach. They allow the lifeguard to have the unique feeling as if he or she is not wearing a tight uniform, but something comfortable. These shorts are reported to be light and comfortable. The swim shorts are styled with a mesh lining that conforms and fits the body snugly, without causing discomfort. It has dual front pockets and a side cargo pocket. It's also 100% polyester/mesh liner. For more information on this, please click on: Website.
The exterior of the shorts is designed to move fluidly with the movements of the lifeguard, without restriction or danger of snagging. There is also a drawstring belt to allow the lifeguard to adjust the waistline to the perfect fit. The shorts are also featured with inside support/lining. Each pair has the white "GUARD" lettering and white cross in the signature circle design. These shorts not only are great quality and provide comfortable when in the pool or at the beach, but Lifeguard Master is also featuring the shorts as their "must have item" with a competitive price. In today's market it's difficult to find affordability along with reliability. For more info on this, please click on: http://lifeguardmaster.com/mens-lifeguard-shorts-board-shorts-and-swimsuits
Probably the biggest asset these lifeguard swim shorts provide is the visibility in an emergency. In any given emergency, patrons and bystanders need to know who to go to. The proper uniform is essential for these situations. The lifeguard on duty must be easily recognizable in an emergency situation. The bright red color of the shorts provides that effect. The "GUARD" logo along with the white cross will also help to identify the lifeguard. When the lifeguard comes on the scene in an emergency, the proper uniform helps in establishing that the lifeguard is responsible and in charge of the emergency situation. For more information on this, please click on: Read More.
Lifeguard Master has been in the emergency and lifeguard industry for many years. Sammy, the owner and founder of Lifeguard Master, has been a lifeguard himself for seven years. He knows what it takes to be an effective lifeguard and through the years has built a robust lifeguard supply store to accommodate the anticipating needs of lifeguards around the country and around the world. Lifeguard Master's determination to excellence and water & rescue safety has quickly made it a leader in its industry. For the full line of men's lifeguarding suites, please visit the website at http://www.lifeguardmaster.com/mens-lifeguard-shorts-board-shorts-and-swimsuits
Sammy
Lifeguard Master
(714) 605-3090
http://www.LifeguardMaster.com/