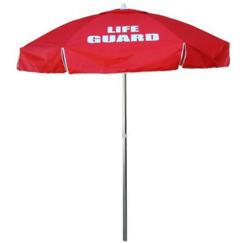 Miami, FL (PRWEB) June 10, 2013
Providing the highest quality equipment available, LifeguardMaster.com is a industry leader for emergency gear. "When I think about what it takes to be an effective lifeguard who keeps an eye on their own levels of strain and fatigue, it's not hard to think of many products that will help." said Sammy, Owner of Lifeguard Master. "One that springs to mind is an exceptional umbrella. If a lifeguard isn't shielded from the elements themselves their attention is easily diverted from their goals. Though agile, they're human too."
To that end, the Lifeguard Master's site makes sure to offer durable weather resistant nylon umbrellas for on-duty lifeguards. Complete with a vinyl laminate covering to protect against the elements, the umbrellas have a diameter of up to six and a half feet. Their adjustability is one of their best features as when the position of the sun changes, the need for what you could call a "mindful" umbrella - that can be set to any shading direction - is essential. Suitable for just about any kind of lifeguard chair, the Lifeguard Master umbrellas have been specifically designed for the beach. "The wind really kicks up sometimes when you're on duty. No lifeguard needs to have the concern that their umbrella will not be able to take the gusts." added Sammy. For more information on this, please click on: go to Lifeguard Master's Umbrellas.
The product LifeguardMaster.com calls the Lifeguard Umbrella - Ultra Weather Durable is the perfect answer to wind-proofing. To take it one further, the company is in development right now for an actual Wind-Proof Lifeguard Umbrella. This specialty umbrella is designed to allow the wind to pass between two layers of a double canopy and comes complete with a matching carrying bag. For more information, please visit: http://lifeguardmaster.com/lifeguard-umbrellas.
Another umbrella that carries a very health-conscience feature is the Solar Lifeguard Umbrella. A revolutionary product in itself the solar version is virtually one hundred percent ultra-violet ray resistant. Additionally, this specially designed product has all the same features as the Wind-Proof Lifeguard Umbrella. It seems as though Lifeguard Master has thought of everything. "When we supply the lifeguarding industry with supplies we want them to be as strong and viable as the lifeguards they assist. That's our job." Added Sammy. For more information on this, please click on windproof umbrellas.
Lifeguard Master has been providing effective and safe emergency supplies and equipment for years. We are one of the leaders in the industry for emergency and life saving gear. For more information regarding these lifeguard umbrellas, please give us a call, send us an e-mail, or visit our website. Thank you. To view a photo, video and a more detailed description of this, please visit: http://www.lifeguardmaster.com/lifeguard-umbrellas.
Sammy
Lifeguard Master
(714) 605-3090
http://www.LifeguardMaster.com