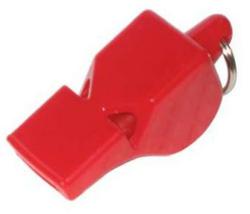 New York, NY (PRWEB) April 27, 2013
Lifeguard Master improves on its lifeguard whistle. This new whistle is loud and can communicate effectively during vital life saving situations.
This lifeguard whistle can be used for those fast, split second emergency communication situations. This whistle can literally save a life or prevent serous injury.
If there is one thing a lifeguard carries with him, it's a whistle. Sure the lifeguard carries other lifesaving devices with him, but always a whistle is strapped onto a lifeguard. Why?
In an emergency situation, it is vital for the lifeguard to get the attention of one patron, multiple patrons, or the entire swimming area. To view this safety whistle, please visit: http://www.lifeguardmaster.com/lifeguard-whistles-fox-40-rescue-whistles
It is one of the most, if not the most, effective and practical tools on how to get the attention of the person or persons you want.
One benefit of this whistle is that it stops a patron from possibly harming himself or the people around him. Hearing of a whistle quickly stops the person from doing whatever he or she is doing. The patron may be doing a dangerous act that can result in injury and even death to himself or the people around him. Hearing a loud sound of a whistle can quickly stop this dangerous act. Since other people may be listening to this, this also sets the tone for others to comply. This lets everyone know that the lifeguard means to enforce that particular rule and is very likely to enforce all other rules as well. One whistle blow can help set the tone for a safe swimming area. For more information, please CLICK HERE.
These lifeguard whistles (which can be used as a replacement to the FOX 40 whistle) can also get the attention of multiple people. If multiple people are doing something dangerous, then a whistle can also quickly stop that act.
Also, this whistle can get the attention of an entire swimming area. In case there is thunder or other emergencies that patrons need to evacuate the pool or an area very fast, the whistle can get the attention of everyone in any given area. So all at once, the lifeguard now has the attention of everyone. And everyone then is quiet and still, awaiting for the lifeguard to give the next instructions. The necessary instructions are then given to the patrons. In an emergency situation, proper communication is vital to keep everyone safe, making the whistle a very effective communication tool.
Beach and large swimming pool lifeguards also use whistles to communicate with each other. At times lifeguards, emergency providers, or other whistle users need to communicate with each other. And at times the distance between them can be far, such as the distance of a beach or the distance of a large swimming pool. So lifeguards sometimes use whistles to communicate with each other. One whistle blow can mean something. Two whistle blows immediately back to back can mean something else. And so one. This code is used and is an effective use of communication.
How loud is this whistle? And how loud should it be? The answer: loud and crisp. You want the whistle to be heard over long distances, over a crowd, or over water. A whistle that is loud and crisp gets the attention of one patron or an entire area super fast. This is vital in an emergency situation. To see a photo of this whistle, please click on: Visit Website
Where must a whistle be? A whistle is usually accompanied by a strap. The strap is either on the user's wrist or around the neck. Both are suitable. For a lifeguard, more often than not, the whistle is around the neck. For more information on this, please click on whistle straps.
The reason why it's positioned so close to the emergency provider, is because it has to be readily accessible in an emergency. And it is used very often. It is the most widely used and most effect tool the lifeguard has.
Lifeguard Master has been providing effective safety whistles and equipment for years. We are one of the leaders in the industry for emergency and life saving gear. For more information regarding this and to see our complete line of whistles, please visit our website, send us an e-mail, or give us a call. Thank you. Please visit us at: LifeguardMaster.com/Lifeguard-Whistles-FOX-40-Rescue-Whistles
Sammy
Lifeguard Master
(714) 605-3090
http://www.LifeguardMaster.com