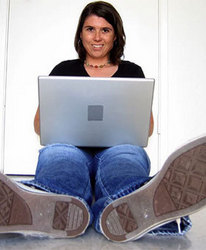 Hoboken, NJ (PRWEB) March 17, 2008
Gina Trapani, heralded by Forbes as the No. 7 Web Celeb (right ahead of Facebook founder Mark Zuckerberg), has authored the follow-up to her celebrated first-edition Lifehacker book. Upgrade Your Life: The Lifehacker Guide to Working Smarter, Faster, Better, 2nd Edition (John Wiley & Sons, Inc.; $29.99; March 2008) is in stores today.
The first edition, Lifehacker: 88 Tech Tricks to Turbocharge Your Day (John Wiley & Sons, Inc.; $24.99; March 2007) was featured in Time Magazine, BusinessWeek, New York Times, Wall Street Journal, Boston Globe and named one of the Best Business Books of 2007 by syndicated columnist Richard Prachter.
Upgrade Your Life is already shaping up to be a stellar follow up. Trapani just returned from SXSW where she served as ETech's motivational speaker at the event. While there she conducted interviews with BBC Radio, the Associated Press, Austin-Statesman, and AfterEllen.com. Lifehacker.com now receives approximately 23 million unique visitors a month, up from 6 million when the first edition was published a year ago. She is also now a columnist for Women's Health magazine and was given a RAVE award for best blog by Wired magazine.
Upgrade Your Life is cut from the same cloth as its first edition. It offers up all the best hacks from Lifehacker.com's archives, and Trapani's personal manifesto on working more efficiently in the digital age. A "life hack" is simply a clever shortcut to complete a task. Lifehackers are redefining personal productivity in the information age by tweaking, modding, mashing up and repurposing webapps, desktop software and common everyday tasks to get things done more efficiently.
Upgrade Your Life: The Lifehacker Guide to Working Smarter, Faster, Better, 2nd Edition
Published by John Wiley & Sons
Publication date: March 17th, 2008
$29.99; Paperback; 480 pages;
ISBN: 978-0-470-23836-3
If you would like a review copy of the book, or to setup an interview/appearance, please contact Ashley Evens at 201.748.6702
About the Author
Gina Trapani is the founding editor of Lifehacker.com, one of the top 5 most popular weblogs on the Internet as ranked by Technorati.com. In addition to updating Lifehacker every weekday and managing three associate editors, she has been published in Wired, Popular Science and Women's Health magazines. Recently profiled by the Wall Street Journal and presented with a RAVE award for best weblog by Wired magazine, Gina has given presentations about life hacks for numerous and diverse audiences from Yahoo! headquarters in Sunnyvale, California to the Law School Admissions Council's Annual Meeting. She has also spoken at the South by Southwest Interactive Festival in Austin, Texas for three years running. A Sun Microsystems-certified Java programmer and Firefox extension developer, Gina earned her masters degree in Computer Information Science from the City University of New York, and a bachelor's in English/Writing at Marist College
About Wiley
Founded in 1807, John Wiley & Sons, Inc. has been a valued source of information and understanding for 200 years, helping people around the world meet their needs and fulfill their aspirations. Since 1901, Wiley and its acquired companies have published the works of more than 350 Nobel laureates in all categories: Literature, Economics, Physiology or Medicine, Physics, Chemistry and Peace.
Our core businesses publish scientific, technical, medical and scholarly journals, encyclopedias, books, and online products and services; professional/trade books, subscription products, training materials, and online applications and websites; and educational materials for undergraduate and graduate students and lifelong learners. Wiley's global headquarters are located in Hoboken, New Jersey, with operations in the U.S., Europe, Asia, Canada, and Australia. The Company's Web site can be accessed at http://www.wiley.com. The Company is listed on the New York Stock Exchange under the symbols JWa and JWb.
###