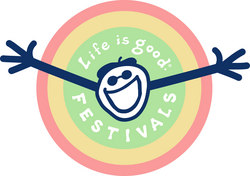 Boston, MA (PRWEB) March 12, 2009
On a mission to spread much-needed good vibes nationwide and beyond, The Life is good Company is expanding its unique brand of playful optimism to an even wider audience than ever before via free, family-friendly festivals in major markets, featuring top-notch musical acts and outdoor fun for all ages.
More than 100,000 people are expected to grab a slice of old-fashioned backyard fun and enjoy great live music as Life is good takes to the road with celebrations from coast to coast in 2009, including the following major city festivals:

San Francisco, Golden Gate Park - May 16
Boston, Boston Common - June 20
Toronto, Coronation Park - September 19
St. Louis, Frontier Park - October 17
Life is good®, a Boston-based company that spreads good vibes through its colorful collection of apparel and accessories, has attracted more than 375,000 people and raised over $3 million for children in need through its nationally-known festivals. The free, outdoor celebrations feature great live music from top national acts like The Blind Boys of Alabama, Martin Sexton, ALO, Brett Dennen, and family favorites SteveSongs and The Sippy Cups, classic backyard food, and a colorful mix of good-time games and activities for all ages. From seed spitting and Double Dutch to soccer kicks, tug-o'-wars and football flings, the emphasis is on free family fun and healthy play. The events also provide festival-goers multiple opportunities to contribute to children in need, combining good fun with a great cause.
Each Life is good Festival will also feature a high-energy fundraising walk, called the Good Walk for Kids, a three-mile family-friendly route that features everything from music and Groucho glasses for all to a silly walk section and conga line finish. Registration for the Good Walk can be done online at http://www.lifeisgood.com/festivals.
Funds raised through the Good Walks, donations onsite, generous grants from event sponsors, and all profits from the sale of Life is good merchandise at the events in Boston, San Francisco and St. Louis benefit Project Joy, a nationally-recognized non-profit organization whose mission is to use the healing power of play to transform children impacted by violence, poverty and loss into healthy players in the game of life. All funds raised at the Toronto event will benefit The Children's Wish Foundation of Canada, which has granted nearly 15,000 wishes to Canadian children living with life threatening illnesses. Now in its 25th year, Children's Wish is dedicated to enhancing the quality of life for children through experiences of laughter, shared joy and memories with the important people in their lives.
For more information on The Life is good Company and its 2009 North American festival schedule, please visit http://www.lifeisgood.com/festivals.
About Project Joy
Project Joy is a 501c(3) non-profit organization dedicated to fostering the healthy development of our most vulnerable children. Many of the children served by Project Joy are living in poverty and have been deeply impacted by violence, loss, and other traumatic experiences. Project Joy champions and protects the single most important activity in the life of a child -- Play. Project Joy provides teachers and childcare providers with the tools to strengthen and heal their children through play. Its unique training retreats are offered to childcare providers throughout the United States. More information can be found at http://www.projectjoy.com
About The Children's Wish Foundation of Canada
Established in 1984, The Children's Wish Foundation of Canada is a national non-profit organization dedicated to fulfilling a favorite wish for children diagnosed with life-threatening illnesses. Since its inception, Children's Wish has granted almost 15,000 wishes for children and their families and fulfills approximately 950 wishes annually -- each being an individual adventure, carefully structured to meet the needs of that particular child. For information on The Children's Wish Foundation of Canada, log onto http://www.childrenswish.ca.
About The Life is good Company
The Life is good Company, Inc., based in Boston, MA, spreads good vibes through its colorful collection of apparel and accessories, and the contagious grin of Jake, its optimistic cultural hero. For more information on Life is good®, please visit http://www.lifeisgood.com
###