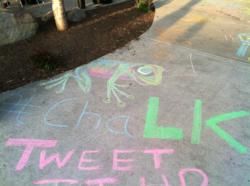 "We want people to be supporting each other in the real world, in everyday life. What better way to do this than to write friendly messages that people will see as they're walking down the street?"
Chattanooga, TN (PRWEB) April 17, 2012
LifeKraze began a unique marketing campaign on Thursday to encourage active lifestyles and local engagement: volunteers and company staff members are writing messages in chalk all around Chattanooga. The "chaLK" campaign will lead up to the first-annual HATCH Chattanooga Festival and will culminate in LifeKraze's exhibit at the 10X10 EXPLORE event on Wednesday, April 18th.
Members of the LifeKraze team and local volunteers will be covering the city's sidewalks with encouraging messages and fun, location-relevant challenges and tips. These "chaLK zones" will be focused around the downtown area, but will also touch on other active locations around the city. The company is offering prizes to individuals who post pictures of these displays to Facebook or Twitter with the tags #chaLK or @LifeKraze.
Jonathan Yagel, LifeKraze's Director of Communications, indicated that this initiative ties well into the company's vision. "We want people to be supporting each other in the real world, in everyday life. What better way to do this than to write friendly messages that people will see as they're walking down the street?"
This push will take place leading up to the HATCH Chattanooga Festival, which is a 10 day celebration of the History, Arts, Technology, Culture and Happenings in the city. Various events and displays will be featured throughout Chattanooga, many of which are part of Makework's 10X10 showcase, which will feature 100 artists across 10 city blocks.
LifeKraze's campaign will culminate in one such 10X10 event, the "CHALK IT OUT" party. The main feature will be a luminescent exhibit, involving an artificial firefly installation and glow-in-the-dark chalk decorations. The event will take place Wednesday, April 18th, from 5 to 10pm in the Walnut Street Walking Bridge Amphitheater, and will be free and open to the public. More information is available through the Facebook event: http://on.fb.me/chaLKitout
LifeKraze, which was founded in 2010 by two recent college graduates, promotes active lifestyles through a social network dedicated to encouragement and personal accomplishment. The young team has earned recognition nationally, as one of Entrepreneur Magazine's 100 Brilliant Companies of 2011, and locally, as a nominee for the Kruesi Spirit of Innovation Award, the Chattanooga Small Business of the Year, and YPAC Business of the Year. Find out more or join the site for free at lifekraze.com.