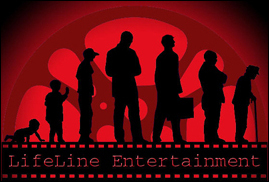 I think the persistence and hard work we put in to our films is about to pay off.
Huntington Beach, CA (PRWEB) September 19, 2006
LifeLine Entertainment, the independent movie production company, has announced the completion of its fourth feature film, AMHURST, a supernatural thriller which was mostly filmed up in the San Bernadino Mountains/Big Bear area of southern California. Produced by Christopher Wolcott and directed by Rocky Costanzo, the duo behind LifeLine's first feature film, Return to Innocence, and written by Lisa Costanzo in her screenwriting debut. LifeLine plans to exhibit the new film in festivals next year
"AMHURST is the perfect addition to our slate of mixed genre films," said Rocky Costanzo, on the new film. "After we made Hallowed last year and were asked by industry folk to make another slasher, we decided not to go that way and came up with more of a ghost movie" he added.
This is the fourth feature-length film by the young filmmakers through their indie company LifeLine Entertainment of Huntington Beach, CA. "Each film is bigger and better than the previous," states producer, Christopher Wolcott. "I think the persistence and hard work we put in to our films is about to pay off." Back in 2001, the filmmakers made "Return to Innocence," which they self-distributed through their company. In 2005, the team made Hallowed which sold to Barnholtz Entertainment and was released through Universal's UMVD label & New Light Entertainment. Later this year, LifeLine will reveal a music documentary entitled Almost Beautiful, which has already attracted interest from distributors. With AMHURST, the filmmaking team is aiming even higher.
In AMHURST, Amy Tiehel stars as Rebecca Cabot, who returns to her childhood home where the ghosts of a past long buried are about to be resurrected. Along with her two young children, Alex & Jessie, played by Alec Hogan and Stephanie Hullar, the three encounter a series of unexplained paranormal and supernatural issues, which traces back to Rebecca's abusive grandfather who recently passed away. A debut screenplay for writer Lisa Costanzo, who was approached by her brother (Rocky) to write his next movie. "It's always been a dream of mine to write a screenplay," said Lisa. "I am currently working on a novel, but thought the time was right to put that aside and write for film."
About LifeLine Entertainment:
In the company's seventh year, it has produced four features and a few short films. Based in Huntington Beach, California, LifeLine Entertainment is a true independent movie company which mission is to create and develop the finest of cutting edge films and present them in creative, stylish and informative ways. Their team is made up of passionate, enthusiastic and talented people who simply love to make films. More information about LifeLine Entertainment can be found at LifeLineEntertainment.com.
Source: HBLLE NEWS
Contact:
Chief Executive Officer
LifeLine Entertainment, Inc.
866-734-1632
# # #