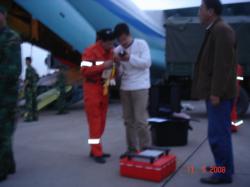 (PRWEB) May 13, 2008
BEIJING The UltraVision LifeLocator system will detect and locate victim motion and breathing both through man-made materials like steel-reinforced concrete, brick or pavement in either intact structures or debris piles. Victims in distress who are breathing but unable to move or speak, which may eliminate their detection by audio-based systems, can be found with the LifeLocator. In addition, rescue efforts can be continual, requiring no interruptions of other rescue efforts to provide the silence required for audio-based detection systems. The LifeLocator is wireless, eliminating the need to deploy probes, cables or wiring to search for victims and creating maximum ease of mobility over treacherous ground. Detections occur in under 30 seconds. The LifeLocator signals rescue personnel in real-time via a PDA that accurately and rapidly provides target information like location and distance to the victim.
LifeLocator uses ultra wideband (UWB) technology to greatly improve the odds of rescue over recovery in life-threatening situations. Ultra wideband technology is the most advanced technology for locating victims by sensing even minor movement or shallow breathing.
About UltraVision
UltraVision is a company dedicated to developing ultra wideband (UWB) technologies for use in life rescue and safety systems. The company's LifeLocator™ system is the international standard for maximizing rescue opportunities in countries most often devastated by building or other types of collapses due to explosions or natural disasters. The company further provides UWB security systems for property and life protection. The company's proven ability to effectively implement UWB technology in security and life-safety products is 30+ years in the making. Future applications include the continued development of rescue, security and life-safety products.
Keyword Tags: China, earthquake, emergency, rescue
MULTIMEDIA GALLERY http://www.businesswire.com/cgi-bin/mmg.cgi?eid=5684542