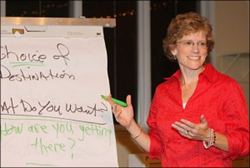 Your purpose in life is to grow in consciousness to the highest realms of living and to grow back to the divinity from which you came.
(PRWEB) September 05, 2014
Jackie Woodside is renowned as a teacher and founder of the Woodside Wellness Institute and as a leader in the Unity Church. Now, the author of such in-depth studies as 'What If It's Time For A Change?' and 'Conscious Entrepreneurs' is launching a six-month explorative program to help participants understand and master energetic consciousness. Styled "The Life Mastery Program," this course is open to all graduates of "The Life Design Course" and will feature Jackie's unique and thought-provoking teaching on developing the skills and power to face any situation. The course will meet in Westford, Massachusetts, for one Saturday each month for six months. For more information, see http://jackiewoodside.com/life-mastery.
Jackie has long been known as one of the world's leading experts on practical advice for those who want to live with a raised consciousness that impacts every aspect of existence and enables them to accomplish much more than they ever thought possible. This six-month intensive course will help graduates develop inner life skills and habits that lead to higher levels of consciousness and peace of mind. Grounded in the knowledge of Who You Really Are, participants will be able to develop the power to face struggles and obstacles and live in confident equanimity as they actively engage in the creation of the highest sense of self.
In order to live lives of happiness, excitement, fulfillment and contribution, participants will expand on the teachings of Jackie's earlier "Life Design Course" and add to that foundational knowledge. As a leader and pioneer of Conscious Thinking, Jackie will personally guide the participants in this program to enhance and expand their knowledge and to develop the inner peace and strength that comes with control over thought processes and energy management.
About Jackie Woodside:
Jackie Woodside is the founder of the Woodside Wellness Institute, a holistically-oriented center offering coaching, spiritual retreats, professional development training and consciousness-based psychotherapy. Jackie created a spiritually-oriented coaching program entitled, "The Curriculum for Conscious Living" which includes three courses: Life Design, Life Mastery and Living a Transcendent Life.
Jackie leads spiritual retreats and has spoken at numerous Unity churches around the country. She delivered her first TEDx talk in 2012 at TEDxWaldenPond. She was a featured speaker at the Unity Worldwide Ministries Eastern Region Conference in 2010 and 2013, as well as speaking at the national Unity People's convention (2012) and was a featured trainer in the Association of Unity Churches Enlightened Leaders Program (2011). She has taught at the Unity Institute and Seminary as well.
Jackie is an Amazon Best Selling author of a new book entitled "What If It's Time for a Change?", a contributing author in the award-winning book "Conscious Entrepreneurs," and has been regularly contributing author to Unity Leaders Magazine as well as The New Face of Leadership Magazine in a column called "Coaches Corner." Her second book is due out in January 2015 and is entitled "Calming the Chaos: A Soulful Guide to Managing Your Energy Rather than Your Time."