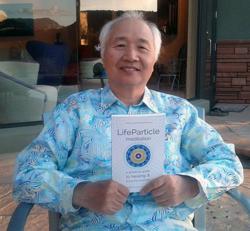 Lee says 'I wrote this book to empower people to understand, manage, and direct the inevitable flow of change in their lives.'
Sedona, Arizona (PRWEB) May 14, 2013
New York Times bestselling author Ilchi Lee is set to release his latest book, LifeParticle Meditation: A Practical Guide to Healing and Transformation, in the beginning of June 2013 through independent publisher BEST Life Media. His thirty-fifth book, LifeParticle Meditation is a practical meditation guide to a unique visualization technique that even novice meditators can do easily.
Available at BESTLifeMedia.com and at Dahn Yoga studios, the 260-page paperback also offers down-to-earth advice on how to incorporate meditation into your daily life to keep yourself charged with energy and positivity. It includes a wallet-sized meditation card in the back with detailed instructions throughout on how to use the card to make LifeParticle Meditation faster, easier, and more effective. These LifeParticle Meditation cards are also sold separately at BESTLifeMedia.com.
LifeParticle Meditation accompanies CHANGE: The LifeParticle Effect, a documentary film by Ilchi Lee and LifeParticle TV. A screening tour of the film with book signing opportunities will be hosted by Dahn Yoga & Health Centers, Inc. from May 9, 2013 to July 26, 2013 in select U.S. cities. LifeParticle Meditation has been taught in Dahn Yoga & Health Centers and its affiliates for the past two years because of its simplicity and effectiveness. The meditation method integrates well with Dahn Yoga exercises.
About Ilchi Lee
Ilchi Lee is an internationally renowned author, educator and humanitarian devoted to developing the awakened brain and teaching energy principles. He is the creator of Dahn Yoga and Brain Education techniques, which are designed to enhance human potential and quality of life through mind-body training methods. He also founded the Korea Institute of Brain Science , the University of Brain Education, the Global Cyber University in South Korea, and the International Brain Education Association.
About BEST Life Media
BEST Life Media produces energy healing and yoga books, CDs, DVDs, and other tools that are both educational and life-enhancing and designed to support a lifestyle based on continuous personal growth and enrichment.