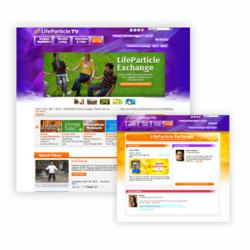 LifeParticleTV.com provides the tools to create room for meditation in the busiest schedule. Especially, with its new social feature the "LifeParticle Exchange."
Sedona, AZ (PRWEB) May 03, 2012
Since May 1st, LifeParticleTV.com, the website which brings enjoyment and ease to the practice of meditation, has a new look. Guided meditation videos, lively discussions and tips for mindful living are presented in a bright new format.
For the many people that might be interested in trying meditation, this website offers innovation and accessibility. The next generation of meditation begins with the entertaining programs of LifeParticleTV.com. This site will completely change the way people meditate, and the results they get out of it, as revealed in the site's promotional video: http://www.youtube.com/watch?v=jov6-EoCaR0
LifeParticleTV.com provides the tools to create room for meditation in the busiest schedule. Especially, with its new social feature the "LifeParticle Exchange." Here, users can send and receive good energy from others. The LifeParticle Exchange is designed to enable a community of like-minded users to share in the healing power of love. This type of meditation is also called "collaborative healing," since it is a group meditation that has benefits for all who participate.
About LifeParticleTV.com:
LifeParticleTV.com is a unique website adding a new dimension to the experience of meditation. Focusing on various aspects of Energy Meditation, the site is designed to benefit both the experienced and first time meditators alike. For more information, visit http://www.lifeparticletv.com.