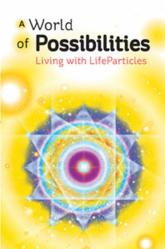 As the most basic building blocks of the universe, elementary particles have infinite possibility. They can become anything. If your mind has an effect on how they act, then you are constantly affecting the world around you with your consciousness.
Sedona, AZ (PRWEB) August 22, 2012
LifeParticleTV.com announces the release of its new free and downloadable e-booklet explaining the website's defining concept, 'LifeParticles.' Titled "A World of Possibilities: Living with LifeParticles," this 14-page booklet highlights the most fascinating aspects and explores the central purpose of LifeParticles. Originally developed by meditation and breathing expert, Ilchi Lee, the website was created to help many people understand the power of meditation and the healing potential of LifeParticles of love.
LifeParticleTV.com provides enriching live streaming and video on demand with health and wellbeing topics such as simple guided meditation, mindful living tips, news and updates anyone can use anytime, anywhere. The site is designed to help individuals and groups transform their lives and reach their goals through the power of meditation and LifeParticles. The shows on this site can completely change how a person meditates and the results they get from it. Focusing on various aspects of meditation, LifeParticle TV is for beginners and experienced meditators alike.
e-Booklet Excerpt
INFINITE POSSIBILITIES
"Some people have made the leap that the expectations and intentions of the mind, as an observer, can affect the behavior of particles. Conversely, since the mind comes from the brain, and the brain is made up of particles, those particles can also affect the mind.
As the most basic building blocks of the universe, elementary particles have infinite possibility. They can become anything. If your mind has an effect on how they act, then you are constantly affecting the world around you with your consciousness. You are always creating your reality, whether you are aware of it or not. Interestingly, ancient wisdom has told us this for ages. Is it possible that this is something we innately know?..."
To read more, get a free download of the booklet at http://www.lifeparticletv.com/downloads