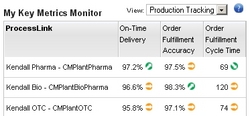 Woburn, MA (PRWEB) November 18, 2010
TraceLink, Inc., the provider of the World's 1st Industry-Wide Supply Collaboration Network, and Patheon, a leading global provider of contract development and manufacturing services to the global pharmaceutical industry, today announced that Jonathan Arnold, chief procurement officer at Patheon and Dan Walles, director of business development at TraceLink will be speaking at the Global Supplier and Partnership Management conference being held December 1-2, 2010 in Berlin, Germany.
Mr. Arnold and Mr. Walles will present a session entitled "Instant Data Exchange and Collaboration with Supply Chain Partners via a Cloud-based Supply Network" to an audience including supply chain, manufacturing, procurement and R&D leaders from such companies as Sanofi-Aventis, Pfizer, Johnson & Johnson, Boehringer-Ingelheim and Amgen.
The presentation will discuss how Life Science companies and their supply chain partners can create visibility and optimize performance by leveraging a Cloud-based supply network. Topics addressed will include:

Creating transparency of critical supply chain data shared between partners
Using an "integrate-once, interoperate with everyone" model to connect brand owners, suppliers and contact manufacturing/packaging partners
Constructing a data exchange platform to efficiently manage mass information flows from an SAP platform for supply transactions and serialization requirements
Building confidence in supply chain data and insight through shared data dashboards
Improving agility in decision-making across the production lifecycle with collaborative team environments
For more information on the event, visit TraceLink and Patheon at GSPM.
About TraceLink:
TraceLink brings the ease of connectivity, integration and collaboration found in social networks to today's global supply chain through the TraceLink Network. The TraceLink Network is a Cloud-based platform that prevents counterfeits, detects diversion, minimizes inventory, reduces cycle-time and ensures on-time delivery for all members of the supply chain by integrating its participants into a network of interoperable, collaborative business processes shared across companies. Brand owners and their supply chain partners quickly forge high-value partnerships by connecting with an "integrate-once, interoperate with everyone" transaction platform, an integrated set of shared business objects and a collaborative team workspace that puts key and actionable supply network data into the hands of business owners.
TraceLink is funded by FirstMark Capital, a venture capital firm managing more than $2 billion in capital commitments. For more information on TraceLink and our solutions, visit http://www.tracelink.com.
About Patheon:
Patheon is a leading global provider of contract development and manufacturing services to the global pharmaceutical industry. It provides the highest quality products and services to approximately 300 of the world's leading pharmaceutical and biotechnology companies. The company's services range from preclinical development through commercial manufacturing of a full array of dosage forms including parenteral, solid, semi-solid and liquid forms. Patheon uses many innovative technologies including single-use disposables, liquid-filled hard capsules and a variety of modified release technologies. Its comprehensive range of fully integrated Pharmaceutical Development Services includes pre-formulation, formulation, analytical development, clinical manufacturing, scale-up and commercialization. Patheon can take customers direct to clinic with global clinical packaging and distribution services and Patheon's Quick to Clinic™ programs can accelerate early phase development projects to clinical trials while minimizing the consumption of valuable API. With its integrated development and manufacturing network of 11 facilities and eight development centers, across North America and Europe, the company ensures that customer products can be launched on-time and with confidence anywhere in the world. Learn more about the company at http://www.patheon.com.
# # #