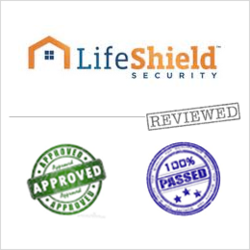 Finding ways to save on a LifeShield home security system has never been easier. We are constantly looking to find more ways to help consumers save.
Denver, CO (PRWEB) April 25, 2013
The home security and security and alarm system experts at Security System Reviews issued a statement this morning announcing that they have added new and enhanced features and functionality to its nationally recognized and award winning home security systems review and ranking web site. The company's web site contains professionally researched and written reviews on most of the nation's best home security systems, including equipment and monitoring services provided by companies like LifeShield Home Security, Vivint, Protect America, FrontPoint Security, and ADT.
Among Security System Review's recently added web features is a new instant quote and specials finder for LifeShield Security systems and monitoring service. The new web app makes it easy to find out the most specific and up to date information available on new security system and service pricing directly from LifeShield Security using a proprietary API that collates and makes available all of the company's latest specials, discounts, and coupons. The goal is to provide potential security system shoppers with a guaranteed low price so that they can quickly and easily make an informed decision about what security system plans might be best for them and their families.
Security System Reviews also announced that they have plans to roll out similar price discovery and comparison tools for all of the home security system companies they review on their web site. One company official even hinted that it might soon be a requirement for inclusion in the company's increasingly influential annual ranking of home security system providers.
"Historically, home security companies have not always been the best about being transparent and volunteering information about pricing, service contracts, and other numbers and details that consumers might use to easily compare them to the competition. Thankfully, with the openness of the web and consumers' reliance on it for information, all of that has started to rapidly change," said Tim Eveler, public relations head at Security System Reviews. "More and more companies are coming to us, volunteering to provide us with whatever information they want, because they see how well potential customers react to having as much information as possible at their fingertips. Today's homeowners want and expect information. It is the Information Age after all. And our security company friends across the aisle have finally come on board with us."
In addition to the new pricing information tools, the SecuritySystemReviews.com web site contains a wealth of additional information related to the home security and alarm industry. Concerned home owners, potential home alarm and security system shoppers, home automation system aficionados, and do-it-yourself home security system enthusiasts can find out more information on industry trends, detailed consumer research and reviews, and the latest expert recommendations and other advice at securitysystemreviews.com.
About SecuritySystemReviews.com
The home security experts at Security System Reviews aim to disseminate the most accurate and reliable information possible on home alarm system and security companies by providing home owners and consumers with all of the data, advice, and access to high quality content they need to compare home security systems in an intelligent and intentional manner.