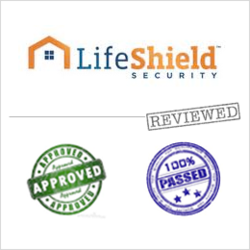 LifeShield Security is a favorite of our experts due to the value. The price is great and the technology is among the best in the industry.
Washington, DC (PRWEB) February 20, 2013
AlarmSystemReport.com has recently revealed that LifeShield Security has taken the second place in its Best Do It Yourself Alarm Systems list for 2013. The list released early this year was accomplished to inform consumers about the best alarm system companies in the market. Accomplished by a team of experts at the alarm system reviews website, the list aims to help consumers make the right decision in employing a security system for their homes or businesses.
Do It Yourself alarm systems have grown famous in recent years because of the growing need for home security systems. Due to rising crime and violence rates, people have turned to security system to help keep their homes safe and their families secure. With the big demand, more and more companies have entered the market promising to offer the best services but only a few of them have proven to be true. LifeShield Security is one of those few home alarm system companies that have kept its words.
LifeShield Security received a rating of 4.5 stars from AlarmSystemReport.com and is considered as one of the top alarm systems in the market. According to the home security systems review site, the company offers one of the lowest and most affordable security system fees in the market. The company offers low up-front costs and unbeatable monthly monitoring prices. This is mainly because the company's equipments are proprietary, allowing them to bring prices. Through this, LifeShield Security is able to offer the same great service at a fraction of the cost.
Having its own equipment for its DIY alarm systems services, LifeShield has been able to tweak its devices to serve its clients' needs better. Consisting of a base, a console and alarm sensors, its "InGrid" system was designed to work like a grid and has since been perfected based on consumer feedback. It also offers a simple set up process and can be installed easily without the help technical professionals. According to AlarmSystemReport.com, LifeShield Security's DIY systems only take less than an hour to be completely installed.
LifeShield Security is also excellent customer support and service. Customer care representatives are always available to answer questions and solve technical issues clients may have. It also offers 30-day money back guarantee and price match guarantee, making sure that consumers get the best deals.
To learn more about our LifeShield Security review and features, visit alarmsystemreport.com.
About AlarmSystemReport.com
A home security system review website, AlarmSystemReport.com, offers research-based reports on the latest news and trends in the market. It offers unbiased reviews on alarm system companies and the services they offer. The site's main goal is to be a main resource site for consumers looking to learn more about home security systems. Dedicated to offering comprehensive reports, each review is completed by a group of competent experts who have been working in the home security system industry for years. AlarmSystemReport.com aims to help consumers choose the best security systems for their homes.
# # #