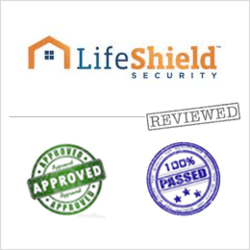 It's now easier than ever to get a quote from LifeShield Security. Requesting a quote will offer visitors the most competitive price that meets their specific needs.
Philadephia, PA (PRWEB) February 28, 2013
Leading home security review website, AlarmSystemReports.com, recently announced that it will be offering a new feature online. The website revealed that it will be offering an instant price quotation feature on its site for LifeShield Security. The new service is in response to the growing number of consumers who are looking to employ wireless alarm systems for their homes or businesses. Through this new feature AlarmSystemReports.com aims to help consumers choose the best LifeShield Security system for their needs.
LifeShield Security is considered by AlarmSystemReports as one of the best home alarm systems in the market. Having been in the industry for close to ten years, the company has been providing state-of-the-art equipment and quality service to its clients. Its wireless home alarm systems make use of its own, specially designed equipment. This process allows the home security service to modify its devices based on the needs of its clients, making sure that they offer only the best to consumers.
The company also offers a range of home security solutions to serve the different needs of the market. Its Do It Yourself alarm systems can be easily installed in any setting—be it at home, in vacation properties or even college dorms. And because its equipments are proprietary, LifeShield Security is able to offer all its systems and services at incredibly low prices. Through AlarmSystemReport.com's price quotation service consumers can have an instant view of the company's service costs.
The price quotation feature aims to help consumers get a quick and more accurate look at the fees being charged by LifeShield Security. Although it is one of the top companies in the home security industry, it offers some of the lowest monthly monitoring prices per package. Through this new online feature consumers can learn about the company's affordability and thus, they wouldn't have to settle for less efficient security systems. They can easily find out which LifeShield system can fit their needs and budget.
The instant quotation offers easy user interface. It doesn't require much information; the service only needs consumers to answer three relevant questions to generate a cost approximate. These include property type, property size and zip code. Answers for these questions can also be chosen from a dropdown box right next to each field, making it very easy to use. AlarmSystemReports.com's price quotation feature aims to make home security system decisions easier for consumers.
For more details on this new feature and other details on our LifeShield Security review, visit alarmsystemreport.com.
About AlarmSystemReports.com
AlarmSystemReports.com is website designed to offer the latest news about the home security and alarm systems industry. It is one of the leading resources for information about the latest companies, systems and trends being offered in the market. With its team of experts, the site also regularly publishes reviews on companies the offer home security systems. Through its comprehensive content, the site aims to help consumers make the right and competent decision in employing a security system for their homes and businesses.
# # #